Finding suitable transport for their kayaks can prove troublesome for even the most experienced kayaker. It only exacerbates this problem when you want to safely transport them over longer distances.
Your truck bed or the roof of your car might be suitable for transporting a single kayak. Depending on their size, you can get some specialist roof racks that will securely carry two kayaks, but once you are looking to transport larger kayaks or over two of them, it's time to consider purchasing a trailer. Your budget, the size of the kayaks and how many of them you intend to transport are just some things you need to consider.
We hope this article can act as a guide to choosing the most suitable kind of trailer to meet your needs. In the article, it will rate the five best car trailers on the market in 2020 and cover some things you should consider before every purchasing a kayak trailer.
We're going to help you understand what to look for to choose the best kayak trailer for your needs. By the end of the article you'll know the good bad and ugly of choosing a kayak trailer.
Here are what we consider to be the five best Kayak trailers on the market in 2020
The Kayak Trailer from Ruff-Sport
The EcoLight 2-Boat J-Rack Kayak Trailer Package from Malone
The Auto Racks MicroSport Trailer Kayak from Malone
The MicroSport Kayak Trailer from Malone
The Rack and Roll Kayak Trailer from Yakima
The Top Picks for the 5 Best Kayak Trailers
In this buyer's guide we will offer a brief description of each trailer and a comparison table to help you get started when trying to choose the most suitable Kayak trailer
1. The Kayak Trailer from Ruff-Sport
This trailer will suit the more imaginative kayaker and has more universal appeal. Well marketed as a kayak trailer, what's your getting is a lightweight aluminum frame with two horizontal cross bars also made from aluminum that can transport anything.
it doesn't come fitted with any specialized mountain cradles or Kayak carriers that you will find another trailer. It's me seems a little hard at first, but some people like it's added versatility.
Once you outfit yourself with some reliable ratchet straps and use your imagination, you can mount anything on this trailer from bikes all the way through to kayaks
As we mentioned previously this trailer has become increasingly popular as it allows kayakers to change it to carry pretty much any adventure equipment. If you're heading away for a weekend camping trip, you can adapt this trailer to carry on your gear it's just down here imagination. Designed to comfortably fit to kayaks that's not advisable to carry anymore a securing load might prove difficult. We would recommend this pack for paddlers who want a more adaptable trailer, something that they can use to adjust to their needs and carry different equipment.
Key Features:
Has a max capacity of four kayaks
The trailer itself weighs 168 lb
It's capable of carrying 400 lbs
It's 149 in length and 64in wide
2. The EcoLight 2-Boat J-Rack Kayak Trailer Package from Malone
Unlike the previous trailer from ruff-sport, this is a great trailer from Malone that comes with dedicated kayak racks at standard. As a consequence of these racks unfortunately it's not really suitable for carrying any other gear if you're just looking for a pure dedicated jewel kayak trailer this is one of the best on the market.
Fitted with two deep vertical v-shaped kayak holders, it comes with its own built-in ratchet straps, so all you need to do is pop the kayak into the cradle and secure it.
There are few trailers in the market that can compete with this for its built-in security. There's no denying it built this Kayak trailer for a singular purpose: it comes with a sturdy box frame that is more than capable of meeting any of your kayak carrying needs.
I'm reading some reviews some people were unhappy with the lightweight nature of the trailer and states that you need to take extra care when traveling on rough terrain as it could jostle or bounce.
The cradles for your kayaks are fully adjustable so you can fix them to meet any of your carrying needs and make adjustments for additional loads. The ability to independently adjust each arm makes it adaptable enough to carry other loads such as canoes. If you are an avid kayaker and you're looking for a pure kayak trailer, this one offers a high level of security and reliability.
Key Features:
The key features of this trailer
Designed to carry two kayaks
The trailer itself weighs 164 lb
It has a weight capacity of 275 lb
It's 134 in long and 58 in wide
3. The Auto Racks MicroSport Trailer Kayak from Malone
Malone are one of the premier manufacturers of kayak trailers in the world they also make mounts roof racks and a series of other canoe and kayak accessories. We chose this trailer as it offers the best value for money.
Not only do you get a solidly built kayak trailer, but that they include four Jay-pro 2 carriers in the deal makes the exceptional value for money. The trailer itself can carry up to four kayaks by the time. Is popular because of its side mounting design, which allows you to easily put your kayaks in place and remove them while remaining reliable and secure.
This is the only four capacity kayak trailer we've chosen to review so if you need a trailer that provides an additional amount of space, this is the best available on the market. It also comes with straps kayak carriers, safety chains and the spare tire included. It's lightweight but sturdy aluminum frame makes it simple to use and operate. The only negative of the entire experience we've had this trailer is the fact that it arrives in a box and takes a certain level of patience to assemble.
Many people comment on the sturdiness of his box channel frame and the fact that it is appears to be far more robust than most other kayak trailers in the same class. If I was recommend any of the five listed on this review, I will go with this trailer as it provides additional space for a group of people to carry on their kayaks together.
Key Features:
Has a kayak capacity of four
The trailer itself weighs 197 lb.
It's capable of carrying up to 350 lb of capacity
It's 159in long and 78 in wide
4. Malone MicroSport Kayak Trailer
Similar to the kayak trailer you reviewed from ruff-sport, this would be considered Malone's budget trailer with a very simplistic design that leaves much to the imagination of its owners. Once again this trailer will appeal to people who enjoy using their imagination to create safe spaces to come and carry their Kayaks.
It can take dedicated contact carriers although comes with a double horizontal bar design. Most users will strap their kayaks down and add some webbing buckles for additional safety. One thing that should be highlighted is that the disc trailer is significantly more expensive than the one from rough sport literacy down to the fact that Malone has a more reliable brand however there's little to choose between the two of them.
Both come with lightweight aluminum frames, horizontal rails and running lights. To be honest, the only difference I can see is the brand name.
Key Features:
It's capable of carrying four kayaks.
The trailer itself weighs 120 lb
Has the capacity to carry 800 lb.
It's 159 in long and 60 in wide
5. The Rack and Roll Kayak Trailer from Yakima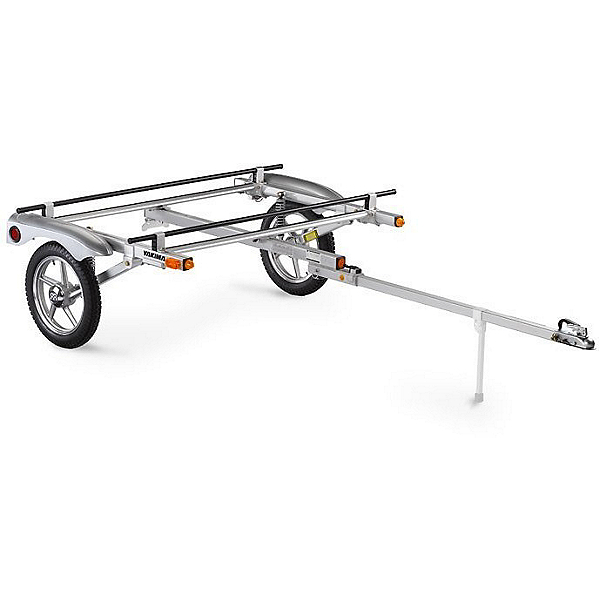 We recognize Yakima as the leading manufacturer of aftermarket kayak trailer accessories with purchasing a kayak trailer, there are a few more dominant names in the market. This trailer is popular because of its exception of 78-in width, which offers significantly more space than any other trailer on the market
Because of this with you can easily accommodate a wide variety of horizontal bars and jay carriers. The trailer's wheel and tongue are fully lockable, meaning that your trailer is completely secure while you're out paddling. Well this is a neat built-in feature purchasing a simple padlock and secure any other trailer.
Despite its heavy price tag, Yakima have failed to include enough kayak carriers if you use the full capacity of the trailer.although you already be out of pocket for a few thousand dollars you may need to spend more before the trailer they outfit it for your needs. Other people have commented on the thin nature of the wheels included on the trailer saying that they've become damaged and larger potholes and stuck on muddy forest roads.
Key Features:
The trailer has a capacity to carry 3 to 4 kayaks
It weighs 150 lb
Can carry up to 300 lbs
The trailer is 161 in long and 78 in wide
The Perfect Trailer for Your Needs – Tips and Guide
For larger groups such as scout groups summer camps and expedition groups kayak trailers have become increasingly popular as they can meet the needs of a larger group of people offering capacity to carry both their boats and additional gear.
However, won't you shop for a kayak trailer the variety of choice in America can make the process quite complicated? Especially if you're not familiar with trailers, but in this part of the article we like to highlight some questions you should ask before choosing the right trailer for yourself.
How many kayaks do you intend to carry
How large are The kayaks
Do you have DIY skills
Kayak trailer materials and other things to consider
Conclusion
How many do you intend to carry?
If you are managing a summer camp, consider purchasing a trailer with the capacity to carry up to a dozen kayaks. But in reality, most people only need a trailer that can carry one or two comfortably. A trailer with a 1-4 boat capacity should suit most people's needs, after that you are really entering the realm of custom trailers.
Another important consideration is how much experience you have transporting kayaks are even driving with a trailer. In some states you might need a specific license to tow a trailer, all this need to be taken in to consideration.
How large are the kayaks?
Standard trailers are more than capable of handling either tandem or single kayaks, But it's always advisable to check beforehand. The trailer tongue and its length is another concern. Smaller trailers are obviously limited in their capacity and sometimes struggle to carry larger sea or tandem kayaks.
Before you ever order a Kayak trailer, you should consult with the manufacturer to ensure the trailer you buy has the means to meet your capacity needs. Returning large online purchases can prove difficult, time-consuming, and expensive. Making the wrong purchase is not something you want to risk.
Before you ever place an order, it's advisable to browse both the manufacturer's website and any available customer reviews. If you have any concerns, it's highly likely that these will be addressed in one or both areas.
Do you have DIY skills?
When you purchase a kayak trailer online, you need to know that it's going to arrive in an enormous pile of heavy boxes, a little book that may not be all straightforward to follow. Getting these boxes unpacked and constructed into a workable trailer requires some level of DIY skills. If you're not mechanically minded purchase a kayak trailer locally otherwise, you could end up assembling it incorrectly.
Thankfully, most of us have some basic DIY skills and there are tutorials available online that will help you ensure every single bolt goes where it should so you don't have to worry about your trailer falling apart on the road. You may need to have some additional tools to work around some shapes and sizes that may be uncommon to you.
Having to purchase these can be a little frustrating, and sometimes people don't factor in the additional cost. What are these tools attend and the skills , a pre assembled trailers may be worth your consideration..
Trailer materials and other things to consider
This is something you need to consider as they usually come in a variety of different types, but here are the most common. Aluminum, offering a combination of strength and weight, this is possibly the best option as it's also rust proof. Steel is the cheapest for purchasing a kayak trailer, but they need extra maintenance to ensure they don't.
Galvanized steel has been coated in zinc to prevent corrosion and rust while cheaper than aluminum and stronger it's a little heavier to work with.
Wheel and tire size
Most kind trailers he's very similar tire and wheel sizes however you may encounter ones with wider or larger tires designed for more difficulty. Whatever tire size you're working with, the last majority will be smaller than kayaks would be considered lightweight loads if you intend to hide off-road into more rough terrain is probably advisable to get a more sturdy tire installed.
The trailer's suspension
The vast majority of kayak trailers have no suspension as there's no great need for them due to the fact that they rarely carry heavy loads. The lack of suspension is something you need to consider on don't be a rough terrain, as if you don't exercise care you could damage your gear or the kayaks.
The tongue length
The section that connects your trailer to your hitch is called the tongue. Its length is important to allow you to safely transport kayaks. If the tongue is too short, you could end up with fat when you drink kayak hanging over the end of your trailer and longer tongues may be more difficult to maneuver.
In Conclusion
As you can see, there are several considerations to make before you purchase the right kayak trailer. You need to understand the capacity you're looking for and decide whether you want a brand name or a more versatile trailer.
Some people will run straight to Malone or Yakima trailers because of their trustworthy nature. If you're looking for something with a little more imagination or variety check out the ruff-sport trailer.
But for choosing the best trailer on our list, it's down to comparing the Yakima with the Malone to decide which better suits your needs. Yakima trailers are far more expensive, but you usually get what you pay for. Balloons while cheaper come a close second, being both versatile and well constructed.
To be honest, choosing between one of the two will be down to preference. I hope this guy improves when you're hunting for your next kayak trailer. And remember, have fun and always remain safe while on the water.