Even the most seasoned kayaker may have problems finding a vehicle that is appropriate for their kayaks. When you need to move them over larger distances safely, it simply makes the issue worse.
You might be able to transport a single kayak on the bed of your truck or the roof of your automobile. You can get specialised roof racks that can safely transport two kayaks depending on their size, but once you need to transport larger kayaks or more than two of them, it's time to think about getting a trailer. You should take into account a number of factors, including your budget, the size of the kayaks, and the number you plan to transport.
We hope that this article will serve as a guide for selecting the trailer type that best suits your requirements. The post will rank the top five car trailers available in 2020 and discuss some factors you should take into account before buying a kayak trailer.
We're going to help you understand what to look for to choose the best kayak trailer for your needs. By the end of the article you'll know the good bad and ugly of choosing a kayak trailer.
Here are what we consider to be the five best Kayak trailers on the market in 2020
The Kayak Trailer from Ruff-Sport
The EcoLight 2-Boat J-Rack Kayak Trailer Package from Malone
The Auto Racks MicroSport Trailer Kayak from Malone
The MicroSport Kayak Trailer from Malone
The Rack and Roll Kayak Trailer from Yakima
The Top Picks for the 5 Best Kayak Trailers
To get you started while trying to select the most appropriate Kayak trailer, we will include a brief overview of each trailer in our buyer's guide along with a comparison table.
1. The Kayak Trailer from Ruff-Sport
This trailer is more appealing to all kayakers and will fit the more creative ones. Despite being well-marketed as a kayak trailer, what you actually get is a lightweight aluminium frame with two similarly lightweight aluminium horizontal crossbars that can haul anything.
It is not equipped with any specific kayak carriers or mountain cradles that you might find on another trailer. At first, it appears a little difficult, but some people prefer the versatility it adds.
You can mount anything on this trailer, from motorcycles to kayaks, once you arm yourself with some sturdy ratchet straps and apply your creativity.
Since kayakers may convert this trailer to carry just about any adventure gear, as we previously indicated, it has grown in popularity. You may modify this trailer to carry your gear if you're going on a weekend camping trip; all you need is a little imagination. Designed to snugly accommodate kayaks, but not recommended for carrying today, securing a load could be challenging. For paddlers seeking a more flexible trailer that they can use to customise to their needs and carry various supplies, we would suggest this pack.
Key Features:
Has a max capacity of four kayaks
The trailer itself weighs 168 lb
It's capable of carrying 400 lbs
It's 149 in length and 64in wide
2. The EcoLight 2-Boat J-Rack Kayak Trailer Package from Malone
This excellent trailer from Malone comes complete with specific kayak racks, unlike the previous trailer from Ruff-Sport. Unfortunately, because of these racks, it's not really appropriate for transporting any other stuff. However, if you're only looking for a kayak trailer, this is one of the best on the market.
It has two deep vertical v-shaped kayak holders and built-in ratchet straps, so all you have to do is secure the kayak once it's in the cradle.
Few trailers on the market can match this one in terms of built-in security. There's no doubting that this kayak trailer was made specifically for towing kayaks; it has a strong box frame that can handle any need you may have.
Reading some evaluations Some users didn't like how light the trailer was, saying that you should be extra careful when driving over difficult terrain since it can shake or bounce.
Your kayaks' cradles are completely adjustable, allowing you to alter them to fit any carrying requirements and add additional weights. It is adjustable enough to carry various weights, such canoes, thanks to each arm's individual adjustment capabilities. This trailer provides a high level of security and dependability if you are an avid kayaker seeking for a pure kayak trailer.
Key Features:
The key features of this trailer
Designed to carry two kayaks
The trailer itself weighs 164 lb
It has a weight capacity of 275 lb
It's 134 in long and 58 in wide
3. The Auto Racks MicroSport Trailer Kayak from Malone
One of the top producers of kayak trailers worldwide, Malone also produces roof rack mounts and a variety of other canoe and kayak accessories. Because it delivers the most value for the money, we selected this trailer.
In addition to receiving a well-made kayak trailer, you also receive four Jay-pro 2 carriers, which significantly increases the value of the purchase. By itself, the trailer can now accommodate up to four kayaks. is well-liked for its side mounting configuration, which makes it simple to mount and remove kayaks while maintaining dependability and security.
If you require a trailer that offers extra space, this is the greatest option on the market because it is the only four-capacity kayak trailer we have chosen to review. It also includes safety chains, kayak carriers, straps, and a spare tyre. It is simple to use and operate because to the aluminium frame's lightweight durability. The fact that it comes in a box and requires some effort to put together is the only drawback of our entire experience with this trailer.
Many people remark on how sturdy his box channel frame is and how it looks far more durable than the majority of other kayak trailers in its class. If I were given the choice between the five trailers mentioned in this article, I would choose this one since it gives a group of people more room to carry their kayaks together.
Key Features:
Has a kayak capacity of four
The trailer itself weighs 197 lb.
It's capable of carrying up to 350 lb of capacity
It's 159in long and 78 in wide
4. Malone MicroSport Kayak Trailer
This would be regarded as Malone's entry-level trailer, similar to the kayak trailer you evaluated from Ruff-Sport, with a very basic design that left a lot to the owners' imagination. Once more, those who appreciate utilising their creativity to design secure areas where they may bring their kayaks will enjoy this trailer.
Despite having a double horizontal bar construction, it can accommodate dedicated contact carriers. Most users secure their kayaks with straps and add webbing buckles for added security. Although there isn't much to choose between the two, it should be noted that the disc trailer is substantially more expensive than the one from Rough Sport Literacy. This is because Malone is a more reputable company.
Both have running lights, horizontal rails, and lightweight aluminium frames. Sincerely, the brand name is the only distinction I can make.
Key Features:
It's capable of carrying four kayaks.
The trailer itself weighs 120 lb
Has the capacity to carry 800 lb.
It's 159 in long and 60 in wide
5. The Rack and Roll Kayak Trailer from Yakima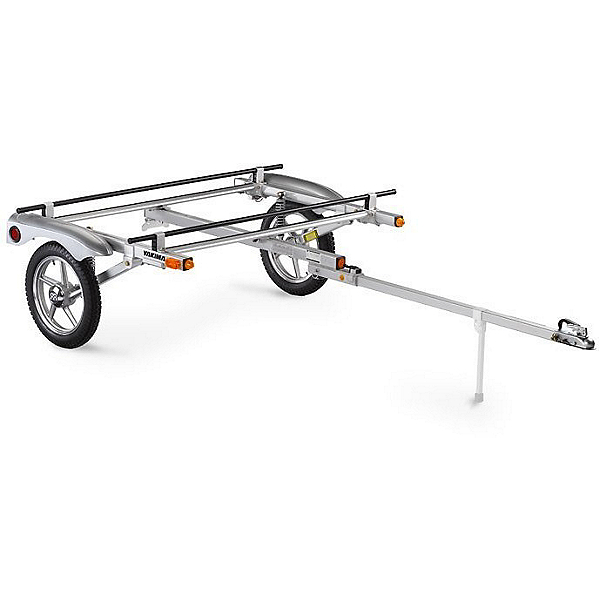 If you use the trailer to its full capacity, Yakima did not include enough kayak carriers despite its high price. Despite the fact that you have already spent a few thousand dollars, you might need to pay more before the trailer is outfitted to meet your demands. The thinness of the trailer's wheels has drawn criticism from some who claim that they have become damaged in larger potholes and stuck on muddy forest roads.
Key Features:
The trailer has a capacity to carry 3 to 4 kayaks
It weighs 150 lb
Can carry up to 300 lbs
The trailer is 161 in long and 78 in wide
The Perfect Trailer for Your Needs – Tips and Guide
Kayak trailers are becoming more and more common for larger groups, such as scout troops, summer camps, and expedition teams, as they can accommodate the needs of a larger number of people by providing space to transport both their boats and additional gear.
Will you still buy a kayak trailer, despite the fact that there are so many options in America? In this section of the essay, we'd like to emphasise certain questions you should ask before selecting the best trailer for you, particularly if you're unfamiliar with trailers.
How many kayaks do you intend to carry
How large are The kayaks
Do you have DIY skills
Kayak trailer materials and other things to consider
Conclusion
How many do you intend to carry?
If you are in charge of a summer camp, think about investing in a trailer that can accommodate up to 12 kayaks. However, in practise, the majority of individuals just want a trailer that comfortably seats one or two. Most individuals should be able to get by with a trailer that can accommodate 1-4 boats; after that, you start to go into the realm of specialised trailers.
How much experience you have driving with a trailer or simply transporting kayaks is a crucial factor. Tow a trailer may require a special licence in some areas; all of this needs to be taken into account.
How large are the kayaks?
Both tandem and single kayaks can be transported on standard trailers with ease, although it's always a good idea to double-check. Another issue is the length of the trailer tongue. Larger sea or tandem kayaks can often be difficult to transport on smaller trailers due to their obvious capacity limitations.
To make sure the Kayak trailer you choose has the capability to satisfy your capacity needs, you should speak with the manufacturer before placing an order. Large internet returns can be challenging, time-consuming, and expensive. You don't want to take a chance on making the wrong purchase.
Before making a purchase, it's a good idea to study the manufacturer's website and any user reviews. Almost sure, one or both of these topics will address any problems you may have.
Do you have DIY skills?
When you order a kayak trailer online, you should be aware that it will arrive in a mammoth stack of bulky boxes and with a small book that might not be quite clear. These boxes need to be unloaded, and then they need to be put together into a trailer that can be used. If you're not mechanically inclined, buy a kayak trailer locally rather than risk faulty assembly.
Fortunately, the most of us possess some fundamental DIY skills, and there are online instructions that can assist you make sure every single bolt goes where it should so you don't have to worry about your trailer breaking down while driving. To work with some forms and sizes that may be unfamiliar to you, you may require a few more tools.
It can be a little annoying to have to buy these, and occasionally individuals forget to budget for the extra expense. What are these tools and skills, and whether pre-assembled trailers are something you should think about.
Trailer materials and other things to consider
They often come in a range of various types, but they are the most typical. This is something you should think about. A combination of strength and weight, aluminium is maybe the best material because it won't rust. The least expensive material for a kayak trailer is steel, however they require additional maintenance to make sure they don't.
Although tougher and less expensive than aluminium, galvanised steel has a zinc coating to prevent corrosion and rust. However, it is a little heavier to work with.
Wheel and tire size
The majority of trailers have quite comparable tyre and wheel sizes, however you may come across some with wider or larger tyres intended for more challenging conditions. No matter what tyre size you're using, the bulk of them will be smaller than kayaks, which are considered lightweight weights. If you intend to travel off-road through rougher terrain, it's definitely best to instal a more durable tyre.
The trailer's suspension
Since kayak trailers rarely carry big weights, they rarely need suspension, hence the vast majority of them don't have any. In order to avoid damaging your gear or the kayaks, you must take into account the lack of suspension when paddling on uneven terrain.
The tongue length
The tongue is the portion of your trailer that attaches to your hitch. Its length is crucial for enabling you to transport kayaks securely. A fat when you drink kayak can hang over the end of your trailer if the tongue is too short, and longer tongues might be trickier to manoeuvre.
In Conclusion
As you can see, there are a number of factors to take into account when choosing the best kayak trailer. To choose between a branded trailer and a more adaptable one, you must first determine the capacity you require.
Due to their reliability, some people will go straight to Malone or Yakima trailers. Check out the ruff-sport trailer if you're searching for something with a little more creativity or diversity.
However, deciding which trailer on our list best meets your needs will need contrasting the Yakima with the Malone. Although Yakima trailers are much more expensive, quality is typically reflected in price. Even though they are less expensive, balloons are a close second since they are robust and adaptable.
Sincerity be damned, your preference will determine which of the two you choose. If you're looking for a kayak trailer for your next kayak, I hope this person gets better. And last but not least, while out on the water, always remember to have fun.