Choosing the right kayak pedal that suits your paddling style is just as important as choosing the correct kayak. The last thing you want to do is to pick a paddle that is the wrong length, one that's too heavy or uncomfortable to use. Ending up the wrong paddle will mean you have a laborious task ahead trying to maneuver your kayak.
There are several factors you need to consider before you pick a paddle for your kayak. We've created this guide to help you with your decision-making process. In order to pick the right paddle, we have looked at the best-selling paddles on the market and chosen what we consider being our top picks.
We also recommend that you purchase the high quality pair of paddling gloves. These will help prevent calluses and soreness as you get used to your new paddle. Our sizing guide will help you pick the optimum size paddle to suit your needs.
Here are the seven highest rated kayak paddles available in 2020:
The Camano 2 PC Straight Paddle from Werner
The Angler Classic Kayak Paddle from Bending Branches
The Paddle with Black Fiberglass from Cannon Kayak
The Carbon Shaft Kayak Paddle from OCEANBROAD
The Compact Touring Kayak Paddle from Advanced Elements
The Magic Plus Kayak Paddle from Carlisle
The Sting Ray Touring Kayak Paddle from Aquabound
The Top Picks for the 7 Best Kayak Paddles
Our comparison article will include reviews a buyer's guide and a comparison table to help you pick the correct pedal.
1. The Camano 2 PC Straight Paddle from Werner
The Camano kayak paddle manufactured by Werner is a high-quality paddle designed using a shaft made from carbon fiber offering the highest quantity in lightweight and strong kayak paddle technology. Despite his lightweight design, this is an incredibly durable device is more than capable of handling the harshest conditions. To ensure efficient and durable paddling the blades of this paddle feature advanced design elements and comprise a combination of nylon and impact resistant glass The paddle is a dihedral shape meant to make a long distance paddling the more efficient stable and smooth.
Key Features:
The Shaft is a Carbon blend
The Blade is Fiberglass
The Design is 2-Piece
The Paddles length is 220cm to 260cm
The Paddles weight is 24.5 oz
2. The Angler Classic Kayak Paddle from Bending Branches
Since its establishment in 1982 bending, branches have dedicated over 35 years to creating high quality composite kayak paddles. 35 years later older pedals are still designed and manufactured in Wisconsin, ensuring that they can remain in complete control over the quality of their product. Continuing in their long tradition of high quality kayak paddles, the angular classic will not disappoint. ensuring durability and strength, they've added a carbon fiber shaft to high-quality fiberglass and nylon blades.
More experienced kayakers will love the three button snap on the feral that allows them to comfortably adjust the feathering angle of the blades between zero and 60/p>.
Key Features:
The Shaft is Carbon fiber
The Blade is Fiberglass-reinforced
The Design is a 2-Piece
The Paddles Length is 220cm to 260cm
The Paddles weight is 27.5 oz
3. The Paddle with Black Fiberglass from Cannon Kayak
If you're in the market for a high-quality entry level paddle for kayaking, probably look no further than this paddle from canon. Manufactured using an androidized aluminum shaft that is aircraft grade, this is an extremely durable and lightweight option for beginners. Offering three offset angles so you can easily adjust the shaft to any battle angle you desire, it also comes in a two-piece design, making it easier to transport. They've also focused on providing an ergonomically designed grip to allow for comfortable all day paddling.
Key Features:
They make the Shaft from Aluminum
They make the Blade from Fiberglass-reinforced nylon
The paddles Design is a 2-Piece
The paddles length is 220cm to 240cm
The paddle's weight is 39 oz
4. The Carbon Shaft Kayak Paddle from OCEANBROAD
This is our choice for a bunch of kayak paddles, and we recommend it highly for several reasons. First, I would like to highlight that just because it's cheap does not mean it's not a solid paddling choice. Met with a carbon fiber shaft that is both strong and lightweight, this two-piece kayak pedal comes with reinforced fiberglass polypropylene blades. They also installed comfortable foam grips which make a brilliant choice for anyone who's looking to go for prolonged paddling journey, and you can also choose from one of any four bright colors.
Key Features:
The Shaft is Carbon Fiber
The Blade is a Fiberglass reinforced PP
Its Design is a 2-Piece
The paddles length is 230 cm
The paddle's weight is 33 oz
5. The Compact Touring Kayak Paddle from Advanced Elements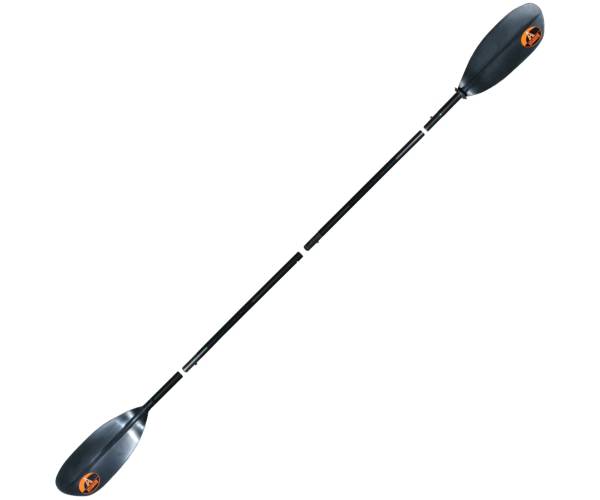 Six months after purchasing an inflatable kayak from advanced elements, I've realized that I wanted a higher quality paddle. So I looked at this paddle to see if it would be very useful to me. I chose it because of its lightweight design and the fact that they use aircraft standard aluminum in the shaft. I also like the reinforced nature of the blades using a combination of nylon and fiberglass. It's four-piece design is pretty unique among kayak paddles, meaning it's extremely portable and packs down to as little as 25 in
Key Features:
The Shaft is Aluminum
The Blade is a Glass filled Nylon
Its Design is a 4-Piece
The paddles length is231cm
The paddle's weight is 43 oz
6. The Magic Plus Kayak Paddle from Carlisle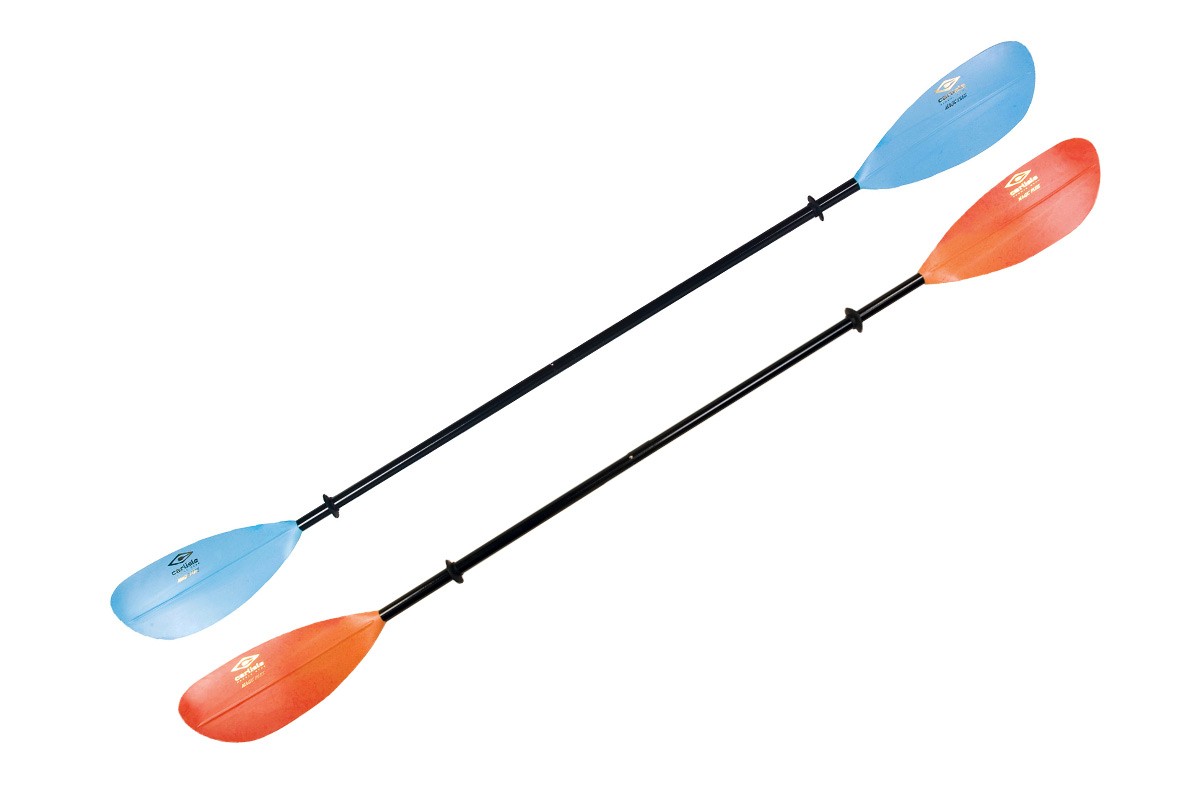 If you're looking for a lightweight and durable touring paddles for kayaking, then the magic plus is an excellent choice. Made with polypropylene that has been reinforced by fiberglass, the blades are linked by a lightweight fiberglass shaft. According to reviews these blades are exceptionally tough and are more than capable of dealing with any hidden obstacles or rocks they may come into contact with they're also more than strong enough to allow you to push off if you get stuck. I particularly like that they came in a high-visibility orange and blue color, adding a level of safety if you're working around other units on the water.
Key Features:
They make the paddles shaft from Fiberglass
They make the paddle blades from Glass-reinforced polypropylene
Its Design is a 2-Piece
The paddles length is 220cm to 240cm
The paddle's weight is 39.8 oz
7. The Sting Ray Touring Kayak Paddle from Aqua Bound
If you're looking for a high-quality touring pedal for your kayak, this should be right up at the top of your list. The stingray is a phenomenal touring battle weighing only 28 Oz it is lightweight and durable. It's unlikely that you will find padlock this quality that is lighter anywhere on the market and this is achieved by working with a 100% carbon fiber shaft that they have integrated into their design with durable and tough nylon and carbon reinforced blades. the addition of carbon fiber blades means that you're working with stiffer and stronger blades than ones that use reinforced fiberglass.
Key Features:
They make the Shaft from carbon
The blades are Carbon-reinforced abXII Nylon
Its Design is a 2-Piece
The paddles length is 210cm to 250cm
The paddle's weight is 43 oz
Key Considerations When Purchasing a Kayak Paddle
The following are what you should keep an eye on when inspecting and choosing the kayak paddle best suited for you before a purchase.
The Paddles Length
The Kayaks Width
Your Fitness level
Your Paddling Style
The Blade's Materials
The Blade Shape
The Paddle Shaft
Choosing the Best Kayak Paddle
The Paddle's Length
When choosing a clack pedal the first thing you need to do is to consider the correct length that they can vary from 200 cm to 270 cm long. There are a series of different factors you need to take into account when picking the correct length for your kayak and your paddling style. Factor in the account the height and width of your kayak, your height and strength and your paddling style in theory the taller you are the longer the paddle you should need..
The Kayak's Width
Here's a quick reference guide to the typical width of different kayaks Recreational clinics I usually between 25 to 30 in wide then usually shorter than a standard kayak Performance kayaks are 19 to 22 in wide being narrower and longer the standard kayak Whitewater kayak in width and are usually designed with the paddlers height in mind Touring class vary in width from 22 to 25, these in pretty similar to performance kayaks they just offer a large storage capacity. .
If you're a beginner choosing a kayak that is the correct width is very important to selecting the correct paddle. Depending on whether you intend to go see clacking or touring a combination of your physical fitness and paddling style will also be important factors in your decision-making process. But in theory, the wider your kayak the longer your paddle should be.
Your Fitness Level
Your overall strength and fitness and the length of your upper corso are critical factors in choosing the length of a kayak paddle. Here is a straightforward way to determine the paddle that's right for you.
Find a chair and sit up straight and then measure the distance from your legs to the tip of your nose. Your overall fitness weight and height are vital considerations when you're choosing the correct pedal. If you are more athletic, you'll probably want a paddle that's shorter and goes to a slightly wider blade, which will allow you to generate extra speed and power. Taller and heavier kayakers will need longer paddles with wider blades which allow them to use a more efficient slower stroke.
Shorter or stuck kayakers if they're not concerned with speed will be happier with smaller blades that offer a lower surface area. If you have enough strength and power and you intend to generate speed, the more surface area you have on your blade the better. I know there's consideration is the size of your hands if you have smaller hands you should look into purchasing a paddle with a thinner shaft.
Your Paddling Style
Paddling styles vary quickly from person to person, but mostly they'll be determined by the kayak you're using. Once you've purchased your kayak, you will quickly determine the style of paddling that suits you.
Are you a low or high angle paddler?
People who are considered low angle paddlers have developed the style while literally kayaking around camera motors. They usually use a more horizontal thinner blade, which allows them to be productive while conserving energy needed for longer trips. hi uncle paddlers are more adventurous, taking on more challenging water conditions that could be less predictable. If you're entering areas with quick flowing waters, you need to swiftly navigate and move and be able to use and the force to get yourself out of trouble.
The Blade's Materials
When you're choosing the correct pedal blade for your needs, you need to consider cost, weight and strength as these are the three primary factors at play. Ideally you could pick the pedal that suits your needs, one that provides a perfect blend of all these features.
Fiberglass paddles are best suited for people who are working in a medium price range and may be interested in more colorful paddle designs built to be semi light and durable, and strong fiberglass paddles are a good starting point for most kayakers. these are the types you would find when you're working with a tourist rental or involved in recreational kayaking
Carbon Fiber
When you become more serious about the sport, you may consider carbon fiber blades these are top of the line being both built for power durability while remaining lightweight. There by far the most costly, but if you're taking a longer trip and become more serious about the sport, they're worthy of consideration.
Aluminum, Nylon, or Plastic?
these panels will be heavier than any of the ones previously but they're inexpensive and strong they're required and if you want to take your kayak out for a recreational pad on the weekend, there's nothing wrong with them
The Blade's Shape
Historically, nearly every kayak blade was symmetrical they all look the same despite being made from a variety of original materials however designs have become more advanced and asymmetrical blades are becoming increasingly popular. The shape of your blade will determine how much energy you need to used to generate speed.
The Paddle's Shaft
Choosing the right shaft for your Kayak paddle will come down to preference whatever feels right should be the one you go with regardless of any loss of opinion. Straight Shaft pedals are perfect for adventurous or more advanced kayakers; it allows you to be more flexible and to easily maneuver in a variety of different situations Whether you are a beginner or just a leisurely paddler, looking at a bent shaft means you can paddle for longer as there is less pressure on your wrist.
Never Leave Home without a Spare
There's a truth to the old saying about never being caught up creek without a paddle. Any experience Pedro will tell you they break, get lost, disappearing in ferocious currents and just sink and float away. Trust me when I say, you don't want this to happen and be stuck without a replacement always have a portable folder paddle available in case of an emergency.
Some FAQs About Choosing the Right Kayak Paddle
How do I know what size of paddle I need?
There are several factors that will dictate this, but your size height and the width of your kayak are the three key considerations
What is the correct way to hold a kayak paddle?
Sit comfortably back into your kayak seat holding the paddle with your hands slightly wider than your shoulders reach as far forward as you can and then pull the paddle back using your arms core and shoulders repeat this action on the other side
How do I steer using a kayak paddle?
Steering is not as difficult as you might think using a wide sweeping motion on one side of the kayak will tell it to turn in that direction continue this motion under your facing the way you want to be.