The battery you have in your solar panel system stores power in DC energy – which you cannot use to power your appliances. If you have a sizeable solar panel system, you will need at least a 1000 watt inverter to convert your stored DC current into usable AC current.
But finding the right 1000 watt inverter is a lot more challenging than you'd think. 
You must sift through hundreds of options to find one that meets both your quality and price requirements, and if you don't know what you should be looking for, you will end up wasting money on the wrong inverter.
Lucky for you, you found our post.
We've shortlisted six of the best 1000 watt inverters money can buy. But before you read our recommendations, you must learn about the different types of 1000 watt inverters so you can make the right decision.
After all, you don't want your decision giving you trouble when you're off the grid.
How to Pick the Right 1000 Watt Inverter for Going Off Grid?
There are six things you need to consider when looking at a 1000 watt inverter:
Power Rating
It gives you an estimation of how much power the inverter can handle. While getting an inverter that can power all of your appliances may seem like a good idea, your battery and solar array must also be large enough to make that happen. 
Furthermore, getting an unnecessarily powerful inverter will needlessly add to your expenses. Confirm the power requirement of the appliances you run, and estimate the maximum power you will use in one go. 
Never underestimate your usage because you will be disappointed if the inverter doesn't support your needs later.
Noise
One of the things you need to remember is that inverters make noise when in use. Knowing that you'll likely be using the inverter in an RV or a boat with limited space, you must make sure that the inverter you get isn't too loud.
You don't need a buzzing sound bothering you when you're in bed after a long day of traveling. 
However, if you intend to use your inverter to run noisy tools, the noise it makes won't make a difference.
Number Of Outlets
Power inverters have been one and three outlets, and if you want to power several devices in one go, you will need to get an inverter with more outlets.
Most inverters on our list have two outlets, leaving you one less thing to consider.
USB Ports
While not every inverter has it, most new inverters come with USB ports.
You will be able to power most laptops, tablets, power tools, and even some gaming consoles like the Nintendo Switch using these ports.
Some inverters come with these ports in conjunction with the power outlets, while some do not.
If you have a lot of electronics, getting your hands on an inverter with these ports is an excellent idea.
Safety 
One of the features the inverter you get must have is the safety feature. It prevents your battery from draining by cutting off the power when the battery reaches a preset temperature.
Ensuring that your inverter has power surge protection is also a good way to know that the inverter you buy will last you for years.
Size
Lastly, but perhaps most importantly, is the size of the 1000 watt inverter. If it's too big for your RV or boat, there is no point in buying it. 
The best way to ensure that an inverter fits the area you've assigned for it is to compare the area's measurements with the dimensions of the inverter.
Types of Inverters and Which One You Should Get
Modified Sine Wave Inverter
If you need an economical option that can power most appliances without any hassle, the modified sine wave inverter is right for you. These cost a lot less than true sine wave inverters do.
However, these inverters can damage sensitive electronics over time. Also, control panels on your microwave likely won't work with the sine wave inverter.
It is vital for you to know that CPAP machines do not work correctly with modified sine wave inverters. While these are perfect for use in RVs, these aren't right for most residential use cases.
Pure Sine Wave Inverter
While pure sine wave inverters are significantly more efficient than the modified kind, they are a lot more expensive, too.
However, what makes them worth the higher prices is that they can be twice as efficient as modified sine wave inverters when powering certain appliances.
These inverters also do a much better job at powering sensitive electronics such as microwaves.
Pure sine wave inverters are of two types:
Low Frequency Pure Sine Wave Inverter
Low Frequency or LF inverters are larger, heavier, and more expensive than High Frequency inverters because they come with a large copper transformer.
If you use air conditioners and compressors regularly and for long periods, LF inverters are the right kind to buy. These work exceptionally well with appliances that require high starting power.
High Frequency Pure Sine Wave Inverter
HF inverters are a lot lighter and have smaller transformers, making them cheaper. If you only intend to use your inverter a couple of times a week, this is the right kind of inverter to get.
If you power many smaller electronics – think phones and laptops – and no "heavy" appliances, an HF inverter will never disappoint you. 
Most inverters rated 1000 watts and lower are LF inverters and will only power smaller appliances and tools. You shouldn't look into getting an HF inverter unless your appliances need it to work.
The Best Pure Sine Wave 1000 Watt Inverters
The XANTREX inverter comes with two outlets and two USB ports, allowing you to simultaneously power several electronics.
The low voltage shutdown feature and the low voltage alarm help you ensure that your battery stays in good health.
Furthermore, it comes with over-voltage protection, overload shutdown, and overheating shutdown.
It can handle two times its capacity in the event of a surge, making it one of the most reliable inverters you can buy.
Pros
Compact
Can handle power surges twice its rating for a few seconds
Almost zero humming during operation and a quiet fan
LED display makes it easy to check power usage and battery voltage
Minimal idle consumption
Cons
The terminal struts aren't strong and require extra care during tightening
Xantrex Technology Inc, 806-1210 Inverter Prowatt Sw 1000
Built-in digital display for DC volts and output power

Built-in USB port. Operating temperature range- 32°F − 104°F (0°C − 40°C)

Dual gfci AC receptacles for safe Operation

Heavy duty terminals for trouble-free Battery connection

Available on/off remote switch (with ignition lockout)
The VertaMax inverter comes with three feet of four-gauge battery cables, a remote switch, and a 150-amp ANL fuse and fuse holder. You won't need to shop around for components to make the inverter work with your solar panel system.
The inverter comes with three grounded AC outlets, enabling you to power several devices simultaneously. The incorporated USB port enables you to charge phones and tablets.
It boasts several safety features that ensure that your battery remains in good health over years of use. The one-year warranty guarantees that you get a free repair or replacement if you run into any issues. 
Pros
LED display for easy monitoring
Several safety features
Three outlets
It comes with all components you need to complete your solar panel system
Cons
Slightly difficult to install
If reliability is a top priority for you, the Go Power! 1000 watt industrial inverter is the right option for you.
Regardless of whether you have sensitive equipment or need clean energy for your portable electronic equipment, the Go Power! is geared to help you.
It comes with two GFCI outlets, but you need to note that it only works with 12-volt batteries.
The compact size and robust design make it worth every cent.
Pros
Reliable industrial inverter
Robust design
It comes with two outlets
Easily handles sensitive loads
Cons
Works with 12-volt batteries only
The Best Modified Sine Wave 1000 Watt Inverters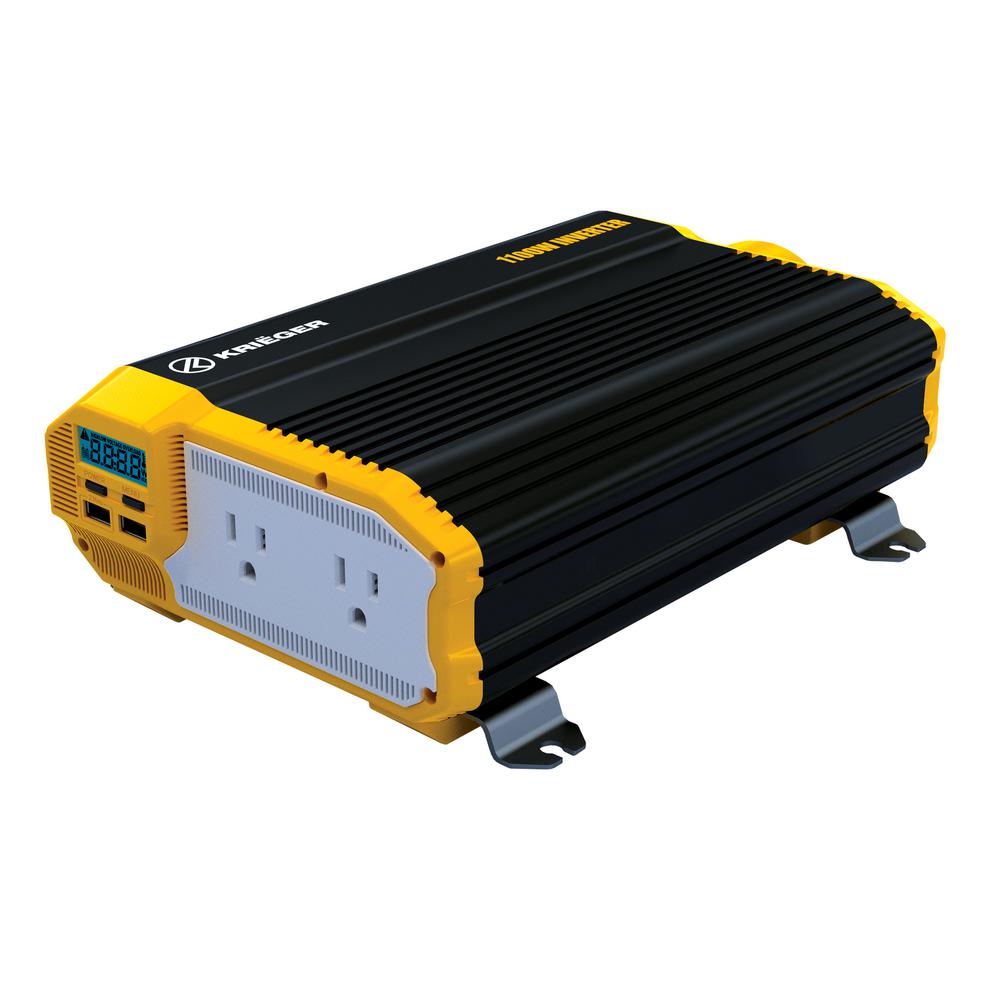 This KRIËGER costs less than half as much as most pure sine wave inverters do, making it an excellent option for use with less demanding electronics.
It comes with a wired remote, cables, and an ANL fuse kit and boasts all the protection you'd expect out of a premium option.
The inverter is approved by METLAB, making it one of the safest 1000 watt inverters money can buy.
The three-year warranty makes it that much better a deal.
Pros
Two USB ports
LCD display
Robust build
METLAB approved
Three-year warranty
Cons
KRIËGER 1100 Watt 12V Power Inverter Dual 110V AC Outlets, Installation Kit Included, Automotive Back Up Power Supply For Blenders, Vacuums, Power Tools MET Approved According to UL and CSA.
1100 watts continuous power, 2200 watts peak power, KR1100 Modified Sine Wave Car Inverter converts 12V DC to 120V AC Power, Connect DC battery cables directly to your vehicles battery and you have power on the go

We have your back – This inverter has all the protections that you will need, Overload, Temperature, short circuit and all of these protections are displayed on the LCD, the LCD Display also shows you the Input Voltage, Output Wattage and Battery Level

Don't just take our word for this inverter's rating, this item has been tested, validated and approved by METLAB for both its safety and performance. MET Approved under UL std 458 and CSA std C22.2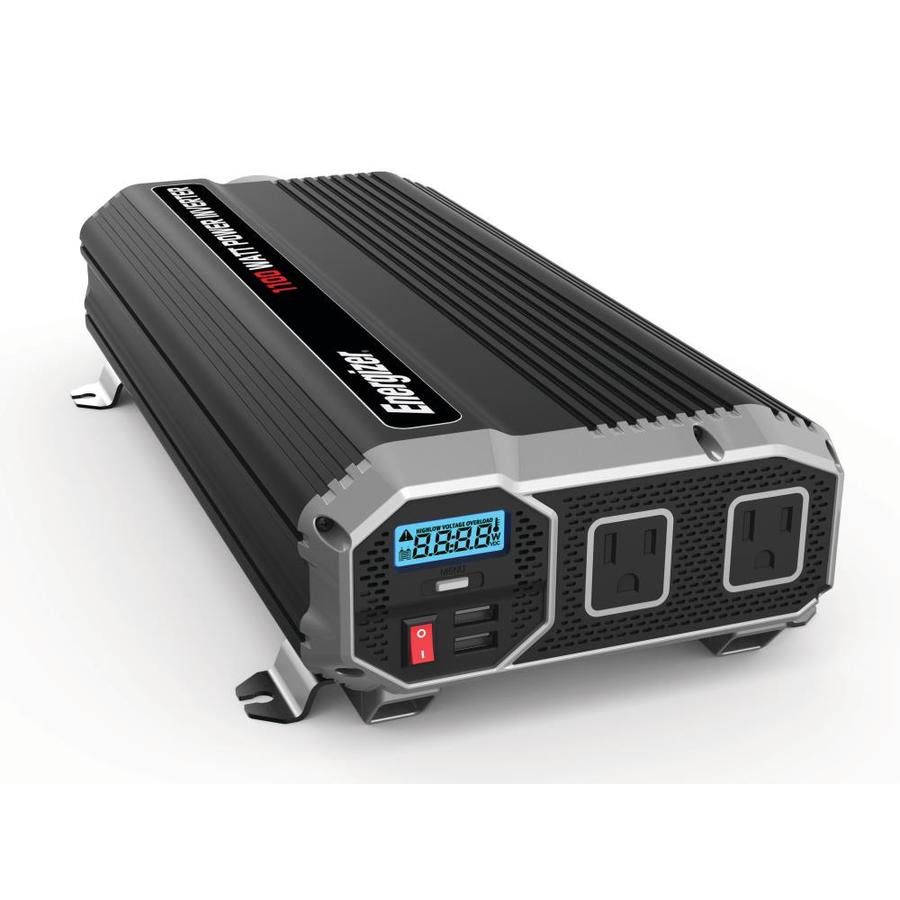 Energizer is popular for good reason – it produces reliable tools for reasonable prices. And the 1100 watt power inverter is no different.
It comes with two outlets and two ports, and the LCD screen displays battery level and indicates all the active protection.
You can connect it directly to your 12-volt battery and power whatever you need. The two-year warranty and MET approval make it a value for money option you won't regret buying.
Pros
Two outlets and two USB ports
LCD screen 
All the protection you need
Two-year warranty
Cons
While the Ampeak 1000W inverter is the most affordable option on this list, it offers impressive features making it just as worth getting as the others.
It has two outlets and two USB 2.1 ports and boasts advanced protection that ensures it runs well for years.
You can use it at home or outdoors and power your devices without any hassle. It has an ETL certification and comes with an 18-month warranty.
Pros
Excellent pricing
2000W surge capacity
Built-in 5 x 25A Mini Slip Fuse
18-month warranty
Cons
Ampeak 1000W Power Inverter Truck/RV Inverter 12V DC to 110V AC Converter with Dual AC Outlets 2.1A USB Modified Sine Wave Inverter
▶ 1000W High Power Inverter ◀ - Provides 1000W continuous DC to AC power output, up to 2000W surge capacity, converts 12V DC battery power to standard 110V AC. (Please confirm the rated power and starting power of your devices before purchasing)

▶ Widely Application ◀ - 2 AC outlets and 2.1A USB port deliver 1000W continuous power, ideal for gift, cell-phone, laptop, electric light, digital camera, breast pump, TV, electrical tools, microwaves and other electronics

▶ Advanced Safety Protection ◀ - Smart Digital Display & Cooling Fan & Audible Alarm & LED Indicator & Built-in 5 x 25A Mini Slip Fuse to protect against Over Voltage / Low Voltage / Overload / Short Circuit / Over Heat. Applies the technology of ABS crashworthiness, robust, as well as good electrical insulation
Now that you've read our guide and are acquainted with the best inverters in the market, finding the right 1000 watt inverter should be easy.
After reading our guide, sift through our recommendations one more time – you will find the perfect option in minutes.
I am an outdoor nut and love researching and testing new gear. For me its about finding that diamond in the rough…not just shelling out $$ for the sake of it. Its tough to decide between the mountains and the ocean so I try and travel alot and bring my Australian Cattle dog where I can (but he does not like boats).