Have you ever played Paintball? Is no your answer? you'll miss a lot. Paintball is one of the most thrilling team activities. It's appraised as a sport and has executive leagues in countries. Can you imagine gathering the family on a weekend to watch a paintball game? Talk about fun!
With the competitive paint game on the rise, a lot of fields have been built to accommodate the huge numbers of enthusiastic players. When there is such broad diversity, it's hard to narrow down the coolest paintball courses to one list.
I did my best to gather the ones that are worth visiting. Check them out below!
Skirmish USA – Albrightsville, PA
Skirmish USA is one of the largest paintball courses in the world. It's no wonder the course attracts 4,000 attendees in July of every year for the popular scenario game, Invasion of Normandy. Customers have a wide selection of courses at Skirmish.
It offers open fields, cargo containers, airplanes, bridges, inflatable bunkers, swaps, and dense woods. The variety is hard to match! Additionally, Skirmish provides numerous packages you can pick from, with special offers for students and large groups.
Do you want to check the fields out before visiting? No worries, the website provides first-person and bird-eye views of the courses on its home page.
Hot Shots Paintball- Adventure Park, FL
Based in Melbourne, Australia, Hot Shots holds 11 fields that give you a vivid real-life experience. Besides the thrilling themes available, there are special sound effects to spice the game up! According to people's votes, the park serves as Australia's most awesome Paintball Skirmish Adventure Park.
It's also among the top five paintball courses in the world. Hot Shots is home to more than 100 acres of themed courses. The available themes include Egyptian Village, Wild West town, and Battleforce Pacific. Moreover, the available fields include The Gauntlet, Assassin, and Mission Impossible.
Paintball fields are available for players who're older than 16 years. The park has special mini-fields for younger players. The adventure park proffers free BBQ facilities for families. Furthermore, it has venues for bachelor parties, special gatherings, and events.
CPX Paintball – Illinois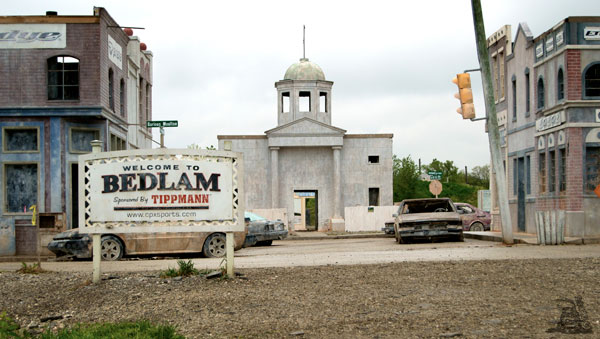 CPX offers players a unique experience of paintball. It has courses modeled to imitate past ages! Among these many courses are Atomic Age, which takes place during World War II, and the Town of Bedlam, which takes place in the 1950s of America.
There's also a jungle course similar to the Indiana Jones movies' sets. The staff walks you step by step through the directive if you don't have paintball experience. There are zones for the inexperienced, along with the advanced one. You will get all the amenities you need, also.
Asylum Paintball – New Zealand
There's a reason Asylum Paintball is called that name; the course is situated on the former Kingseat psychiatric hospital that's been out of operation since 1999. Spooky, isn't it? The management decided to use the establishment's past as the park's main theme.
This fact alone serves as an attraction for thousands of players annually. I doubt any of us would pass on the opportunity to play paintball in one of New Zealand's most haunted places! Asylum offers indoor and outdoor arenas, in addition to lockers, party venues, and BBQ facilities.
Among the outdoor venues are the Wrecking Yard, Drums of War, and Urban Assault. The indoor venues are Doom Arena and Splat Arena. If you decide to give this park a visit, you'll want to register for the Asylum Night Terror event. You'll get to enjoy ten hours of Airsoft battle with scavengers!
Gotchaspielfeld Nord – Berlin
With its 20 paintball fields, 150-beds sleeping facility, and open-air cinema, it doesn't come as a surprise that Poland's Gotchaspielfeld Nord is Europe's biggest paintball field. It's only an hour and a half distance from Berlin.
There are several paintball options for players to choose from. For starters, the park offers a tour to the Secret Bunker Forest. Additionally, if you're a fan of the military, there is a tank ride available on a real armored vehicle!
Alternatively, you can enjoy any of the themed courses, including Rocket SILO, Slim City, Black Hawk Down, and House of Paint. If you're going for something more adventurous, you can join the Big Game Scenario, along with 1000+ German players who participate in the glorious event.
The park also accommodates a disco and a restaurant. You're offered a free lunch at the restaurant upon making a full-day booking.
Hollywood Sports Paintball – California
Can you imagine playing paintball inside the set of your favorite movie? No need to imagine it anymore, Hollywood Sports has actual movie sets serving as paintball courses! You can delve into the post-apocalyptic action on the set of Mad Max, or join the World War II adventures in Saving Private Ryan.
Godzilla, Starship Troopers, and The Haunting are also available. Aside from the movie sets, there is an urban warfare training course. As well as real-life simulations of video games like Black Ops Canyon. Hollywood Sports lived up to its claims of being one of the greatest parks on earth.
The paintball movie sets earned it a spot on a lot of bucket lists. It's an experience worth living at least once in your lifetime.
Apocalypse Paintball – Wisconsin
Located in Wisconsin, Apocalypse Paintball is the fourth USA course on our list. The park has 16 playing zones with different layouts, depending on the preferable difficulty level. Apart from the usual paintball amenities, Apocalypse's grand castle is its main attraction.
It's built on a land spreading 40,000 square feet. It also has seven towers that are as high as a three-story building. The castle embraces several hiding places where you can play any scenario game you pick. There's also a large catwalk inside.
Final Thoughts
These paintball courses will give you the finest playing experiences that the game has to offer. The victory of getting an accurate shot and the exhilarating feeling the chase gives you will be worth the journey. Gather your friends, prepare your equipment, and get ready for an adventure of a lifetime! It's not enough to just get the best paintball gun, the best speed ball gun or the best pump paintball gun…whether you're into speedball vs woodball or just a weekend warrior..these courses are sure to impress.