Do you have any Paintball experience? Is "no" your response? You'll be missing a lot. One of the most exciting team activities is paintball. It is regarded as a sport and has national executive leagues. Can you picture getting the family together to watch a paintball game on the weekend? Think about the fun!
A lot of fields have been developed to suit the enormous number of eager participants due to the growth of the competitive paint game. It's challenging to condense a list of the coolest paintball courses when there is such a wide variety.
I made an effort to compile the sites worth viewing. Look at them down below!
Skirmish USA – Albrightsville, PA
One of the biggest paintball fields in the world is Skirmish USA. It's understandable why the course draws 4,000 participants each July for the well-known scenario game, Invasion of Normandy. At Skirmish, customers have access to a large number of courses.
It features wide-open spaces, shipping containers, aircraft, bridges, inflatable bunkers, trading posts, and thick forests. It's difficult to match the variety! Additionally, Skirmish offers a variety of packages, with discounts for students and large parties.
Do you intend to visit the fields first to inspect them? No worries, the website's home page features first-person and aerial views of the courses.
Hot Shots Paintball- Adventure Park, FL
Hot Shots, an Australian company based in Melbourne, has 11 fields that simulate real-world situations. Special sound effects are included in the game in addition to the exciting themes! The park is Australia's most fantastic Paintball Skirmish Adventure Park, according to public voting.
Additionally, it is among the top five paintballing fields worldwide. More than 100 acres of themed courses may be found at Hot Shots. Egyptian Village, Wild West village, and Battleforce Pacific are some of the themes that are offered. Additionally, The Gauntlet, Assassin, and Mission Impossible are among the fields that are accessible.
Players above the age of 16 have access to paintball fields. Younger players can play on designated mini-fields in the park. Families can use the free BBQ facilities at the adventure park. Additionally, it offers locations for events, special gatherings, and bachelor parties.
CPX Paintball – Illinois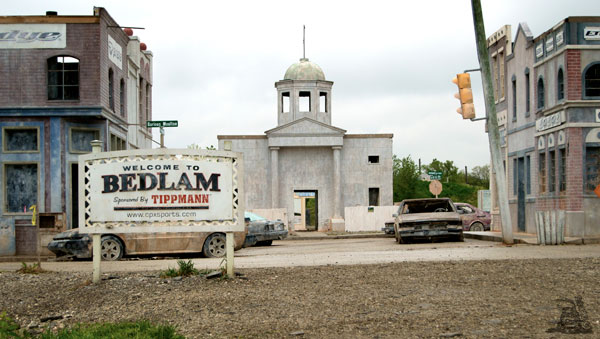 Players can enjoy a distinct paintball experience at CPX. It offers courses that mimic older times! The Town of Bedlam, which takes place in the 1950s in America, and Atomic Age, which takes place during World War II, are just two of the several courses offered.
There is also a jungle course that resembles the locations from the Indiana Jones films. If you have never played paintball, the staff will lead you through the instructions step-by-step. There are areas for both the inexperienced and the experienced. You will also receive all the conveniences you require.
Asylum Paintball – New Zealand
Because the course is located on the former Kingseat Psychiatric Hospital, which has been closed since 1999, Asylum Paintball has earned its moniker. It's eerie, isn't it? The establishment's history would serve as the primary theme of the park, the management decided.
Thousands of gamers are drawn to this fact alone each year. We probably wouldn't turn down the chance to play paintball in one of New Zealand's most eerie locations! Asylum has locker rooms, party spaces, and BBQ amenities in addition to indoor and outdoor arenas.
The Wrecking Yard, Drums of War, and Urban Assault are a few of the outdoor locations. Doom Arena and Splat Arena are the indoor locations. You need sign up for the Asylum Night Terror event if you intend to attend this attraction. Ten hours of Airsoft combat with scavengers are yours to enjoy!
Gotchaspielfeld Nord – Berlin
It is hardly surprising that Poland's Gotchaspielfeld Nord is the largest paintball field in Europe with its 20 paintball fields, 150-bed lodging facilities, and open-air theatre. Berlin is only a one and a half hour drive away.
Players can select from a variety of paintball alternatives. The park's first excursion is to the Secret Bunker Forest. On addition, if you enjoy the military, you can take a tank ride in a genuine armoured vehicle!
The themed courses, such as Rocket SILO, Slim City, Black Hawk Down, and House of Paint, are also available. If you want something more daring, you can play in the Big Game Scenario with the other 1000+ German gamers who take part in the magnificent event.
A restaurant and a disco are also located in the park. If you make a full-day reservation, the restaurant will give you a complimentary lunch.
Hollywood Sports Paintball – California
Can you picture yourself participating in paintball on the set of your favourite film? Hollywood Sports offers actual movie sets that serve as paintball courses, so there's no need to imagine anything anymore! You can participate in the post-apocalyptic action on the Mad Max set or in Saving Private Ryan's World War II escapades.
Additionally available are Godzilla, Starship Troopers, and The Haunting. In addition to the filming locations, there is an urban combat training facility. Additionally, there are simulations of video games in real life, such Black Ops Canyon. The Hollywood Sports park lived up to its reputation as one of the best in the world.
Many people's bucket lists include it because of the paintball movie sets. At least once in your life, you should have this experience.
Apocalypse Paintball – Wisconsin
The fourth USA course on our list is Apocalypse Paintball, which is situated in Wisconsin. There are 16 separate playing areas in the park, each with a different layout based on the desired degree of difficulty. The main draw of Apocalypse is its enormous castle, which stands apart from the conventional paintball amenities.
It is situated on a 40,000 square foot plot of land. In addition, it features seven towers, each of which is three stories high. The castle includes a number of hiding spots where you can participate in any scenario game you like. Inside is a sizable catwalk as well.
Final Thoughts
You will have the best possible playing experiences on these paintball courses. The satisfaction of making a precise shot and the thrilling experience of being chased will make the trip worthwhile. Gather your friends, prepare your equipment, and get ready for an adventure of a lifetime! It's not enough to just get the best paintball gun, the best speed ball gun or the best pump paintball gun…whether you're into speedball vs woodball or just a weekend warrior..these courses are sure to impress.