Speedball isn't your conventional everyday paintball game. It's very different from woodsball paintball. Understanding the difference between speedsball and woodball is one of the most common questions once beginners start to graduate into "weekend warriors."
Speedball is rapid-paced and fierce….so getting the best paintball gun for speedball is no luxury and just a little bit of research can go a long way…especially before you drop some $$ on real hardware.
You need something that's light and easy to handle but also durable and won't jam easily (which is a bigger issue when seconds count).
In this article, I'll break down what to look for and what are some of my favorite speed ball guns.
Best Speedball Paintball Guns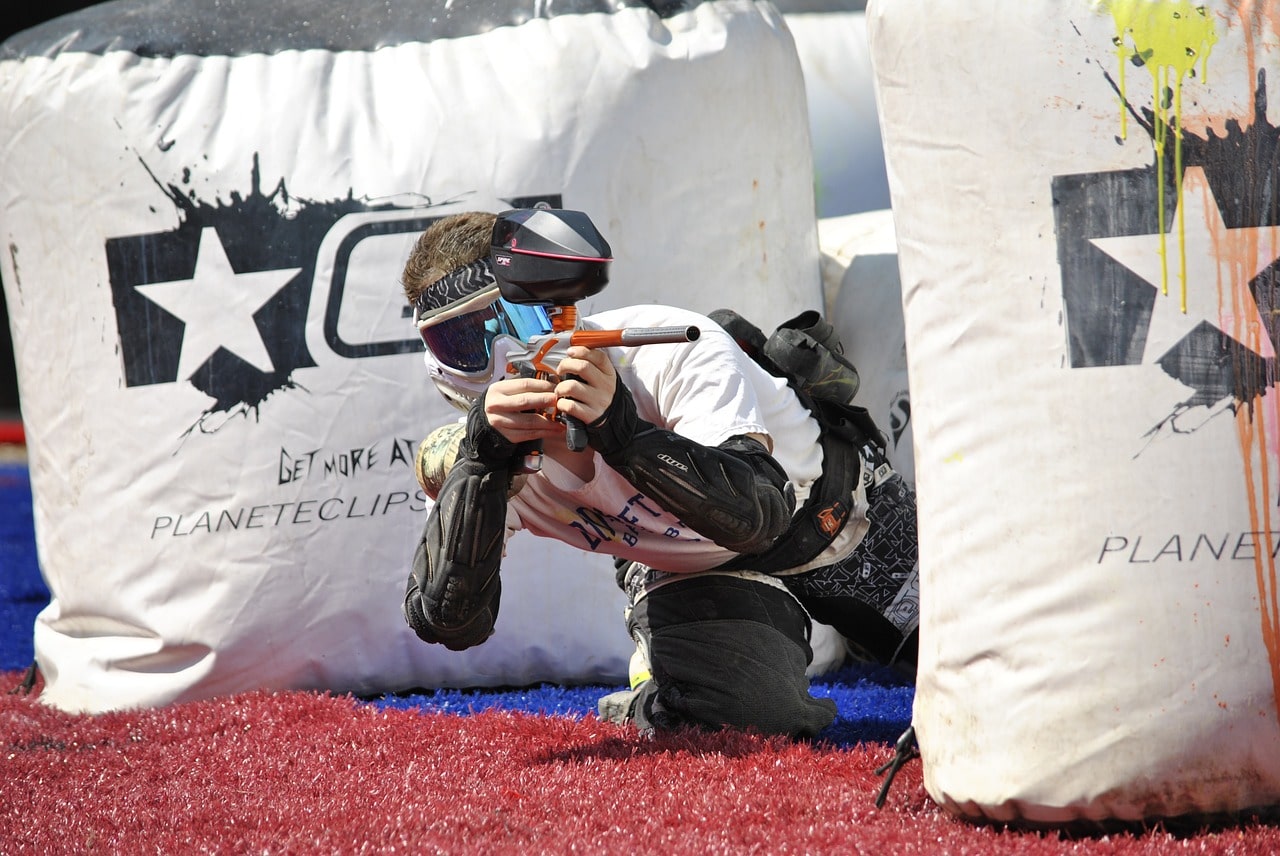 | Image | Title | Price | Buy |
| --- | --- | --- | --- |
| Top | Planet Eclipse Etha2 PAL Paintball Marker – Black | | Buy Now |
| Top | Spyder Victor Semi-Auto Paintball Marker (Forest/Green) | | Buy Now |
| Top | Empire Mini GS Paintball Gun – Dust Grey/Navy Blue 2-pc Barrel | | Buy Now |
Product prices and availability are accurate as of the date/time indicated and are subject to change. Any price and availability information displayed on [relevant Amazon Site(s), as applicable] at the time of purchase will apply to the purchase of this product.
Prices pulled from the Amazon Product Advertising API on:
With the profusion of products we sight on the market, it's a dare to find what you're looking for. However, don't fret. I got you. Here are my favorites paintball guns for speedball.
It is one of the best electronic guns you can come across. It's tiny and only weighs around 2.2 pounds. This isn't very light, in comparison to its competitors, but it won't slow you down either.
The Etha 2 gun uses a core bolt which is built on Breach Sensing Technology. It regulates the amount of air in every shot by using a pneumatic latching spool.
This makes it all the more efficient and increases shot quality. Moreover, it fires up to 1,000 shots on a 4,000 psi fill-up. It's made of incredibly durable materials, namely reinforced nylon composite for the grip frame and feed neck.
Pros
● Anti-clipping system
● Strong and durable
● Works in different climates
● It doesn't require a lot of maintenance
Cons
● Loud
● Expensive
Spyder Fenix Electronic Paintball Gun – Blue
Air Efficient Eko Valve System (Patent #8,286,622)

Anti-Chop Eye System Functional in All Modes

LEAP II Circuit Board with Rear Facing Color Access Mode Display (CAMD)

Operates on CO2 or Compressed Air

Adjustable Inline Regulator
Spyder Fenix is a stylish mid-level good speedball gun that has managed to deliver top-notch quality for a fraction of the price of its counterparts. It's practically a steal! It weighs only 1lb, the lightest on the market. Read our full Spyder Fenix Review here.
It's also very quiet, as it uses little air to fire. This will come in handy if you need to fire while hiding. What makes Spyder Fenix particularly special is its air-efficient EKO Valve System. It uses a 20 oz carbon dioxide tank to shoot up to 1600 shots.
Pros
● Lightweight
● Quiet
● Air-efficient EKO Valve System
● Affordable
● One-year warranty
Cons
● Not particularly durable
● Not preferable for advanced games or tournaments
● Fires chopped paint
Empire is a well-known name in the paintball industry. It needs no introduction. Its mini GS marker is a combination of functionality, speed, and durability. The barrel is made of aluminum, and the feed neck is strong and sturdy, making it last through many games of heavy firing. There's a reason this gun make our all around list of best paintball markers.
The grip is made of rubber with an improved trigger frame, so it's easy and secure to hold through speedball games. Further, the empire mini GS has a micro-switch trigger that can help you perfect your game. It's a clicking sound every time you fire a paintball.
This feature does wonders for your accuracy. One drawback to this gun is the lack of the ASA on/off feature. This makes it chiefly difficult to take your tank out. Another is that, for tall people, the frame may be too tiny and complicated to handle.
Pros
● High-speed firing
● Lightweight
● Accurate
● No chopped paintballs
● Different firing modes
● Smooth shooting
Cons
● Hard to operate for beginners
● Small frame
● Occasional HPA tank leakage without frequent maintenance
● No ASA on/off feature
How to Choose a Speedball Paintball Gun?
Buying the best paintball gun is full of technicalities that aren't always easy to understand. Knowing what to search is vital for navigating the market for the ideal gun for you.
Type
There are basically three types of paintball guns; mechanical, blowback, and electronic paintball gun.
Mechanical
Mechanical paintball guns are the most commonly used kind of speedball markers. They release a striker or hammer under spring tension when the trigger is pulled. They operate on carbon dioxide or compressed air. They're semi-automatic, firing one round every trigger pull. Although mechanical guns can work in speedball, they're not ideal.
Blowback
Blowbacks operate a lot like mechanical guns. They come in two designs; stack tube and inline. Stack tube is high-powered and more expensive, while inline blowbacks are less efficient, cheaper, and less likely to break.
Blowbacks are more suitable for strategic games, as they're slow and won't be of help in speedball.
Electronic
Electronic speedball paintball guns have been becoming more and more popular and they're the best option for speedball. This is because they fire high rates of shots with every trigger pull. They are also competent for burst and full-auto modes.
They're powered by high-voltage, rechargeable batteries. They operate in different ways; spool valve, sear tripper, and pneumatic poppet valve. Some of these firing mechanisms use carbon dioxide, while others use compressed air.
CO2 vs. Compressed Air
Most paintball guns run on compressed air, rather than carbon dioxide. Compressed air, also known as high-pressure air (HPA), is consistent, works in different climates, and is more expensive. It's the better choice for electro-pneumatic guns and speedball gun games.
On the other hand, CO2 is stored as a liquid, so it doesn't work well in colder temperatures. It's cheaper and better used in mechanical guns.
Weight
Pro paintball gun usually ranges from 2 to 8 pounds. Speedball is a fast-paced game, and carrying a heavy gun can slow you down, especially if you're not particularly fit. Look for lighter guns to step up your game.
The Verdict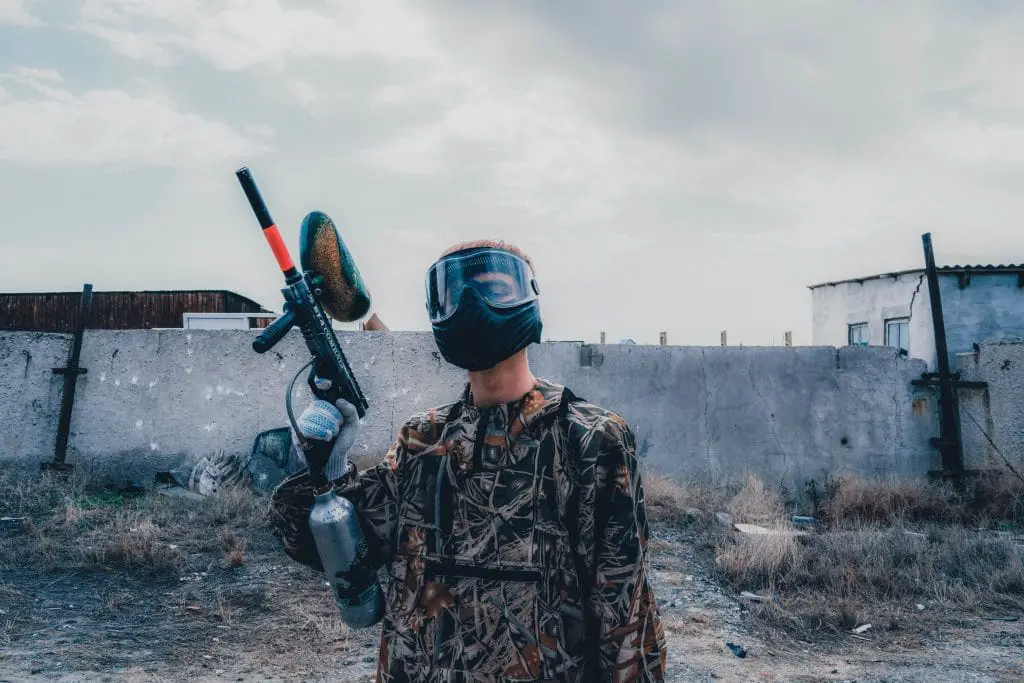 Speedball Paintball is no easy game. It requires speed, coordination, and above all, the right equipment. Guns can be the reason to make or break your game, which is why you should choose wisely.
My go-to option for speedball games is Planet Eclipse Etha 2. It's the epitome of functionality mixed with incredible speed. It's weighty and a bit loud, but makes up for by its high power and durability.
If you want something a bit more economical, I'll go for Spyder Fenix Electronic Paintball Marker. It's streamlined, light, and faint in noise and sound; a great option for rookies as well as intermediate players.
Bestseller No. 1
Bestseller No. 2
Bestseller No. 3