Due to an increased emphasis on personal and community security, scanners are becoming increasingly popular. Especially as people are getting more concerned due to the spike in burglary, vandalism, and other crimes. More and more communities and individuals are starting to invest in local communication systems to help keep their communities and families safer. A reliable scanner will be central to these.
Having the ability to monitor RF chatter from various sources, including security agencies and the local police, could prove very helpful. This is why we decided to review the BC75XLT from Uniden, an affordable device with a variety of neat features.
The Uniden BC75XLT has remained a popular scanner for quite some time for very good reasons. People use it to monitor transmissions including local news, racing tracks, airports, police, fire stations, in even the railway station.
Once you get this device set up and programmed using it could prove a no-brainer for anyone concerned with local security and provide them with everything they need.
What do the users say about the Uniden BC75XLT?
The Look and Appearance
It is an ergonomically designed compact unit, that usually comes in black. Weighing just 14 oz with the batteries included, it's really comfortable and light to hold and use. Horizontal grooves are built into the side, making it a scanner that is really easy to grip.
People comment that the cover is brittle being entirely plastic, so it may not survive being banged and dropped with any amount of force as it might crack.
Most of the device's functions are on the front with all the buttons and the LCD display. The display is generous, so you don't have to worry about having to squint at have to see any letters or figures. you know it's also backlit to make it easy to use during nighttime.
The box itself also comes with a user's manual, software, USB cable, belt clip, and a flexible BNC antenna. If you intended to use it for neighborhood watch or scanning for nearby signals, local police frequencies emergency services are at sporting events the antenna is adequate.
But if you're looking to pick up signals that are further away, you might want to purchase a better unit that can offer you more range. One of the device's bonuses is that the connection type used makes it very compatible with many high-grade antennas.
Another thing that users have commented on is that scanner novices have had some issues with the user manual. As the instructions given for programming the unit for using specific channels are a little complicated.
Battery
The battery itself is easily accessible. It's not difficult to figure out how you open the back panel to replace it. The addition of extra power sources which makes it very flexible you can either use to AA batteries or rechargeable batteries. On the negative side, the pack doesn't come with any included, so you have to purchase them yourself
Many users recommend you buy two Ni-MH 2300 mAha robust rechargeable battery. The double A's never seem to last very long. On the inside of the compartment there a slide switch that allows you to select the type of battery, you want to use. it's essential to always like this current battery type before you insert any new batteries.
The USB charging feature makes sure you won't have any issues charging this device. The adapter is fully compatible with any USB port from a variety of different power sources. All you need an AC adapter that has a USB port that can be used on can be plugged into any point in the public grid.
Programming the Device
Before you can ever use your scanner, you will have to first program in your preferred channels. The fact that it can hold up to 300 channels makes it really easy to use, but in reality, it's unlikely you need all these. Check out the Uniden support's instructional video for a step-by-step guide.
Your BC75XLT can easily be programmed manually using your PC. You should know that a suitable quality programming cable will be needed, as you want to connect easily to the PC.
Some users commented that when they wanted to include many different channels the repetition involved in programming the device and its frequencies became a little bit repetitive after a while. Thankfully you only have to worry about doing this once as the device has ample memory on this function easily stores all the channels you need.
Obviously, programming the device manually will take more time. It should probably only be used as a backup option in the event don't have access to a PC.
Other users expressed this frustration trying to follow the instructions in the manual to program their device. They had to give up; they advised that your best avenue is to just contact customer care and they will guide you through the process instead. If you do have a local radio expert, you could take it to them to help you program it.
Another example of the intricacies of having to program the device, is if you're doing it manually you will have to press each 'H' 'Func' and 'E' in that order then type in the frequency that you want to save you and press the 'E' button again. These steps will have to be followed over and over until on your channels have been successfully programmed.
Also check out our review of the Uniden BCD996P2 right here.
How to Get the Most from Your BC75XLT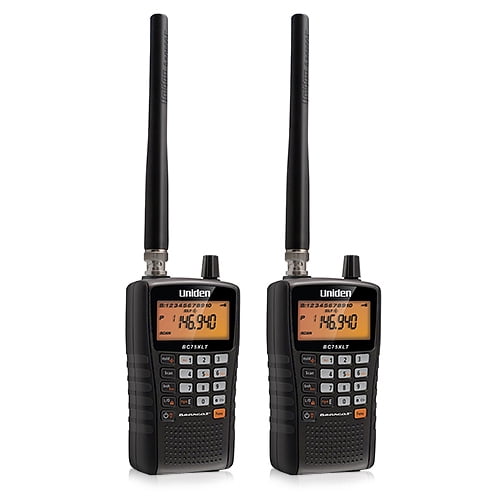 Many users have commented that the device's is in truth very intuitive, and it's easy to learn how to use it. They say this was a pleasent surprise considering the user manual itself did prove difficult to understand.
Close Call RF Capture
Others that they were able to pick up transmissions almost instantly. One user of the scanner stated that they had quickly programmed in the local race tracks frequency can follow everything going on in the pits. They commented that this was down to the devices close call RF capture technology.
This technology is just one of a series of attractive benefits allowing the radio to hone in on and scan for closer signals, meaning that it does not waste time looking for weaker signals that are further away.
People interested in the neighborhood and home security will be able to select local signals from security agencies in an emergency. The more experienced you are with this device. The more you would be able to scan local frequencies that may be hidden.
Unfortunately, the one band that you cannot access using this scanner is the 800 megahertz band, so if any agency or the police service is using the channel. You might have to pick up a separate scanner for monitoring their signal if this is your priority
You will be able to monitor the vast majority of RF range in your area with the standard antenna that comes with the device. You also don't have to worry about the quality of sound as the onboard speaker is also excellent
Volume control is regulated using a knob situated on top of the unit that also controls SEL and squeaks functions. In the beginning, some people said they accidentally switched channels when they actually wanted just the volume. This will take a little bit of getting used to but with time and shouldn't be a problem.
The display is by no means a high-end screen and is easy to read looking straight on, but from an angle, all you see is a blur.
Its Battery life
Going on user reviews, you can get anything from 4 to 12 hours from this device using standard AA batteries. Some people comment that their devices must be slightly 'off' and this is causing them to get less battery life
In all honesty, I haven't used AA batteries myself in age as rechargeable batteries are just too good. Using them I found that the scanner is still full of life even after using it all day. One of the most significant negatives I see you this device is that there is no battery meter to show you how much power is that. But it does alert you to a low battery
Uniden BC75XLT, 300-Channel Handheld Scanner, Emergency, Marine, Auto Racing, CB Radio, NOAA Weather, and More. Compact Design. (New replacement model, Replaced by Uniden SR30C Bearcat)
Vhf low/high, uhf frequencies

Close call RF capture Technology with do Not disturb

Pc programming port & free software

300 Channels: You can program up to 300 channels into the scanners memory, 30 channels in each of 10 banks. Then, you can scan for transmissions on the stored channels

Runs on 2 AA alkaline or Simple USB charging allows you to recharge your scanners batteries from a computer, or adapters for many wireless telephones

Narrowband Compliant: Properly tunes to channels using the Narrowband modulation now required for business and public safety operation

Ten Preprogrammed Service Search Bands: Easily search for frequencies typically used by Police, Fire/Emergency, Marine, Racing, Civil Air, Ham Radio, Railroad, CB Radio, Weather, and more
Other Notable Features of the Uniden BC75XLT:
The ability to set 10 priority channels.
You can lockout up to 200 channels with the temp lockout function.
Direct access to your central channel and a key lock feature.
It does alert when the battery is low, despite the lack of a display.
Monitor real-time weather alerts with the NOAA channels.
Pros
Up to 300 customizable channels.
10 pre-programmed bands built-in.
Cons
Not very durable as it is made of plastic.
While charging it cannot monitor transmissions .
In Conclusion
As you can see, most people are delighted with their Uniden BC75XLT scanners.
Anyone who was looking to monitor nearby transmissions using a lightweight RF scanner; say this is the perfect device. Easy to use and carry around and come to the handy belt clip if you want to keep your hands-free for other tasks.
It's a flexible antenna, easy setup, intuitive buttons, and 300 programmable channels are favorites among many people in the local RF universe. Once you get over the fact, you cannot scan the 800 megahertz band and the other minor downsides you will have a lot of fun with this device.
Related Posts: