Scanners are becoming more and more common as personal and public security are being prioritised. Particularly given how worried people are about the rise in burglaries, vandalism, and other crimes. To keep their families and communities safer, an increasing number of people and towns are beginning to invest in local communication systems. The key to these will be a trustworthy scanner.
Monitoring RF chatter from multiple sources, such as security services and the neighbourhood police, could be quite beneficial. This is the reason we chose to review the BC75XLT from Uniden, a reasonably priced gadget with lots of cool features.
For very excellent reasons, the Uniden BC75XLT has maintained its popularity for quite some time. People use it to keep an eye on broadcasts from places like the local news, racetracks, airports, police, fire stations, and even train stations.
Anyone worried about local security may find employing this gadget to be a no-brainer after it is set up and programmed because it will provide them everything they need.
What are consumers' opinions of the Uniden BC75XLT?
The Look and Appearance
It is a small, ergonomic device that often comes in black. It's really easy to hold and operate because it weighs only 14 oz when the batteries are included. The side of the scanner has horizontal grooves that make it incredibly easy to hold.
People have noted that because the cover is entirely made of plastic, it is brittle and may break if slammed or dropped violently.
With all the buttons and the LCD display on the front, the device's majority of features are accessible. You don't need to squint in order to read any letters or numbers because of the ample display. You are aware that it has a backlight to make using it at night simple.
In addition, the box itself includes a flexible BNC antenna, software, USB cable, and belt clip. The antenna is suitable if you planned to use it for neighbourhood watch or for searching for neighbouring signals, local police frequencies, or emergency services during sporting events.
But if you want to be able to pick up signals from a greater distance, you might want to invest in a better device with a longer range. The device's ability to connect to a variety of high-quality antennas is one of its benefits.
Users have also mentioned how the user manual can be difficult for inexperienced scanner users. Because the instructions for setting up the device to use particular channels are a little complicated.
Battery
The battery may be accessed without difficulty. Understanding how to replace the rear panel is not difficult. It has been given several power sources, which gives you the flexibility to utilise rechargeable batteries or additional AA batteries. On the down side, you have to buy them separately because they are not included in the bundle.
Numerous customers advise you to purchase two Ni-MH 2300 mAh strong rechargeable batteries. Double A's seldom seem to stick around for very long. You can choose the type of battery you want to use using a slide switch on the interior of the container. Prior to inserting any new batteries, it is imperative that you always use this current battery type.
You won't run into any problems charging this smartphone thanks to the USB charging option. Any USB port from a range of various power sources can be used with the adapter without any issues. All that is required is an AC adapter with a USB port that may be inserted into any location on the public grid.
Programming the Device
Before you can ever use your scanner, you will have to first program in your preferred channels. The fact that it can hold up to 300 channels makes it really easy to use, but in reality, it's unlikely you need all these. Check out the Uniden support's instructional video for a step-by-step guide.
Using your PC, manually programming your BC75XLT is simple. Knowing that a high-quality programming cable will be required will help you connect to the PC quickly.
Some users complained that after a while, programming the device and its frequencies became a little bit repetitive when they wanted to include numerous different channels. Fortunately, you only need to worry about doing this once because the device's memory is sufficient for this function to store all the channels you require.
It goes without saying that manually programming the device will take longer. In the unlikely case that you don't have access to a PC, it should usually only be utilised as a backup option.
As they attempted to programme their equipment according to the manual's directions, other customers also expressed frustration. They were forced to give up; they suggested that you contact customer service so that they could help you instead. You might take it to a local radio specialist to get programming assistance if you do have one.
Another illustration of the complexity of programming the device is the need to manually press the buttons "H," "Func," and "E" in that order, type the frequency you want to save, and then press the "E" button once more. You will need to repeat these steps until all of your channels have been successfully programmed.
Also check out our review of the Uniden BCD996P2 right here.
How to Get the Most from Your BC75XLT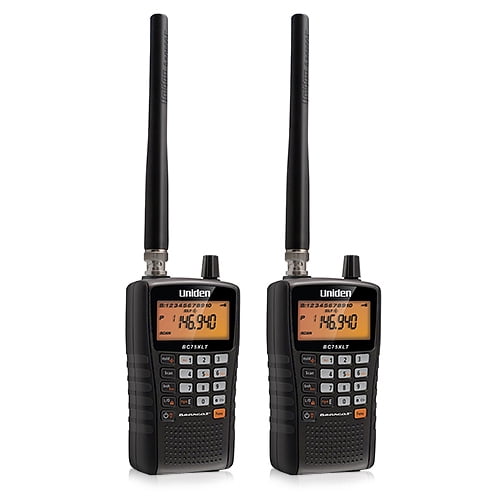 The device is in fact highly straightforward, and using it is simple, according to many users' comments. They claim that given how challenging it was to grasp the user handbook, this was a pleasant surprise.
Close Call RF Capture
Others that they were able to nearly immediately pick up communications. One scanner user reported that they were able to follow everything happening in the pits since they had rapidly keyed in the frequency of the nearby racetrack. They said that the device's close-range RF capturing technique was to blame for this.
The radio can focus on and scan for signals that are closer to it thanks to this technology, saving time by avoiding the need to search for weaker signals that are farther away.
In an emergency, those who are concerned about their community and home security will be able to choose local signals from security organisations. the more comfortable you become using this equipment. The more you could scan potentially concealed local frequencies.
Unfortunately, the 800 megahertz band is the only one that this scanner cannot reach, therefore if any agency or the police service is using the channel. If this is your first goal, you might need to get a different scanner for keeping an eye on their signal.
With the device's conventional antenna, you can keep an eye on the overwhelming majority of the RF spectrum in your vicinity. Additionally, you shouldn't worry about the sound quality because the integrated speaker is very good.
A knob on top of the device, which also controls the SEL and squeaks features, is used to control volume. Initially, individuals claimed to have mistakenly changed channels when they only intended to adjust the level. It will take some getting accustomed to, but that shouldn't be a problem with time.
Although the screen is by no means a high-end one, it is easy to read when viewed directly on, but when viewed from an angle, all you can see is a blur.
Its Battery life
According to user reports, this device may operate for anywhere between 4 and 12 hours on regular AA batteries. Some users claim that their smartphones must be slightly "off" because this results in shorter battery life.
Since rechargeable batteries are just better, I haven't used AA batteries myself in a very long time. Using these, I discovered that the scanner is still vibrant after being used all day. The absence of a battery metre to display the device's power output is one of its biggest drawbacks, in my opinion. But it does warn you when your battery is low.
Uniden BC75XLT, 300-Channel Handheld Scanner, Emergency, Marine, Auto Racing, CB Radio, NOAA Weather, and More. Compact Design. (New replacement model, Replaced by Uniden SR30C Bearcat)
Vhf low/high, uhf frequencies

Close call RF capture Technology with do Not disturb

Pc programming port & free software

300 Channels: You can program up to 300 channels into the scanners memory, 30 channels in each of 10 banks. Then, you can scan for transmissions on the stored channels

Runs on 2 AA alkaline or Simple USB charging allows you to recharge your scanners batteries from a computer, or adapters for many wireless telephones

Narrowband Compliant: Properly tunes to channels using the Narrowband modulation now required for business and public safety operation

Ten Preprogrammed Service Search Bands: Easily search for frequencies typically used by Police, Fire/Emergency, Marine, Racing, Civil Air, Ham Radio, Railroad, CB Radio, Weather, and more
Other Notable Features of the Uniden BC75XLT:
The ability to set 10 priority channels.
You can lockout up to 200 channels with the temp lockout function.
Direct access to your central channel and a key lock feature.
It does alert when the battery is low, despite the lack of a display.
Monitor real-time weather alerts with the NOAA channels.
Pros
Up to 300 customizable channels.
10 pre-programmed bands built-in.
Cons
Not very durable as it is made of plastic.
While charging it cannot monitor transmissions .
In Conclusion
The majority of users are happy with their Uniden BC75XLT scanners, as you can see.
This is the ideal gadget, according to anyone wishing to use a portable RF scanner to keep an eye on surrounding transmissions. If you want to keep your hands free for other duties, utilise the convenient belt clip, which is simple to use and carry around.
Its adaptable antenna, simple setup, user-friendly controls, and 300 customizable channels make it a favourite among many in the nearby RF community. You will have a lot of fun using this device once you get beyond the issue that you cannot scan the 800 megahertz band and the other minor drawbacks.
Related Posts: