Obviously most people are purchasing the T605, believing that it's an upgrade. It must be superior walkie talkie talk offering better functions and features than the older model, right?
Not exactly…the biggest difference I could find is that the 600 does not come with a car charger (which i like). Other than that, these things are pretty identical…so, if you want the car charger, spring for th 605. Otherwise, pick whatever is cheapest (sometimes they'll flip in price).
Image
Title
Price
Prime
Buy
Motorola T600 Talkabout Radio, 2 Pack

Prime

Eligible

Buy Now
Motorola T605 Talkabout, 2 Pack Bundle

Prime

Eligible

Buy Now
Product prices and availability are accurate as of the date/time indicated and are subject to change. Any price and availability information displayed on [relevant Amazon Site(s), as applicable] at the time of purchase will apply to the purchase of this product.
Prices pulled from the Amazon Product Advertising API on:
If someone asks you to compare the Motorola T600 vs T605 handheld radios, it's like someone handing you a red apple and a green apple and asking you the tell the difference. On the surface, it's obvious there are different colors. But outside of that pointing out that significant difference once you scratch beneath the surface, your job gets a little bit more complicated.
You could be forgiven for thinking that since T605 is newer than the T600 and, of course because of this it must be an upgrade and it is precisely what Motorola wants you to believe.
Motorola will tell anyone who has the T600 they should purchase the T605. This article will explore whether this is a good idea or not. We propose doing a complete head to head comparison of the T605 and the T600 from Motorola and explaining to you why comparing these two devices is like doing a comparative analysis of two red-colored apples.
How Do They Look?
The first thing we need to do is compliment the team at Motorola, for doing an excellent job with both model, both these walkie talkies are exceptional pieces of technology. Designed to make communicating in the outdoors regardless of where or what your adventure might be, just easier.
Both devices are identical; they're nearly impossible to tell apart with their black and olive green casing.
They're designed to be used in extreme sports such as mountaineering, skiing, kayaking, all as we regular outdoor activities such as hiking, hunting, fishing, and even camping. Many businesses and other organizations such as schools use these as they are incredibly useful and reliable communication devices.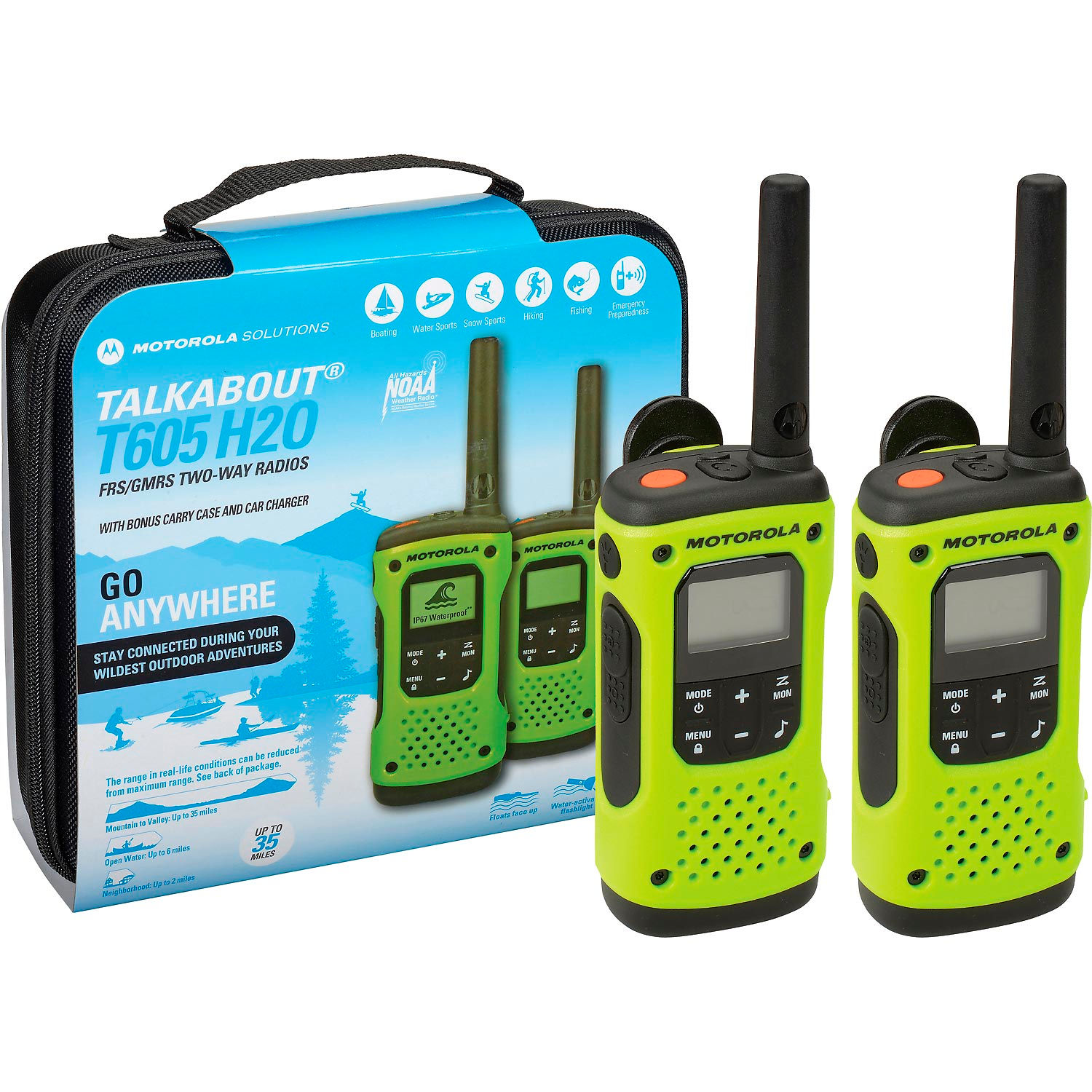 If you look at the numerous reviews next for both these Motorola devices, they're proven to be waterproof, receiving an IP rating of 67. If either of them falls in the water, they will remain safe for up to 30 minutes.
Receiving an IP67 rating also means that they are dust, rainfall, and snow proof, tested, and designed to withstand the rough and tumble that they will experience when being used outdoors. To make them even more waterproof, they are actually designed to float, so if you drop them in water and have nothing to worry about.
Some Other Common Key Features
Both devices on dual-band featuring 22 channels FRS and GMRS, when you add in the additional 121 privacy codes that have included you got a grand total of 2662 potential subchannels to work with.
This amount of subchannels is essential as it will enable both users and organizations to quickly find unoccupied frequencies. It also makes it less likely that a third-party can easily overhear it for any private conversations. While not meant to be a security feature that does operate as one.
These devices come with a built-in flashlight which is common among most two-way portable handheld radios. What makes these devices different is that their integrated flashlight features both white and red LEDs.
The white LED light operates as a standard flashlight, which will allow you to find your way should you get caught in the dark and any other reason you might need a flashlight. The red LED is designed for protecting your night vision. I will not temporarily blind anyone if you're using it in the dark, unlike the white LED.
Into handheld and compact, ergonomic designs? the Uniden BC75XLT is also another good example. Check out our review of it here.
Another neat feature is if you accidentally drop water in the dark, the flashlight is water activated. It makes me feel more comfortable to spot while it floats.
Both devices are completely compatible with FRS, and GMRS walkie talkies regardless of the model or brand. Once you are on the same frequency or channel, you can communicate with any other device.
Motorola's PTT power boost is beneficial if you're looking to extend your transmission range. You will use up additional battery power but it could prove very useful if you need to boost your transmitter.
Both devices work very well in the hands-free mode as they are IVOX and VOX enabled. This means that you can start exchanging messages and activate your walkie talkies without even having to use the PTT button. An essential feature if you need your hands to be free to do other necessary tasks.
More common features:
Built-in Emergency alert button designed to help alert others of danger.
Dual-power options; both devices can use either the rechargeable NiMH battery or 3 AA batteries.
Handy Micro USB charge point.
Up to 35-mile range in perfect conditions.
Get weather alerts from 11 NOAA channels.
Silent operation enables the use of VibraCall alert.
Both handset have a 9-hour battery life on their NiMH battery and up to 23 hours on 3 AA batteries.
The Differences Between T600 and T605?
You really do have to look closely and examine both models to see if they have any functions or features that are different. To be honest, I couldn't find any that would really jump out and say wow the 605 is a superior device to the 600.
So is there any justifiable reason to spend an extra $20 to get this upgrade to the newer model?
To be honest, the answer comes in the accessories available for both models to be precise. The T605 offers two additional accessories that do not come with a T600.
A Carrying Case
The T605 comes with a small black bag with a built-in tote handle, used to safely store your walkie-talkie and all the accessories that come with it.
This might prove useful if you don't intend to use the gadget for a prolonged time period of time. You can keep everything safely in one place. Another thing worth noting is the bag is also big enough to add a few extra bits and pieces that you may use for outdoor activities. Meaning you don't have to go searching for them if you need to grab it in a hurry.
A Car Charger
The other feature that doesn't come on the T600 is a car charger.
Let's be honest when a car charger is not useful, so you're T605 can be recharged by plugging it into your vehicle cigarette port. On the flip side, these are so university-available now that you could easily pick one up in a variety of different places and it will work fine with your T600.
Why is Using a Two-way Radio Better Than a Mobile Phone?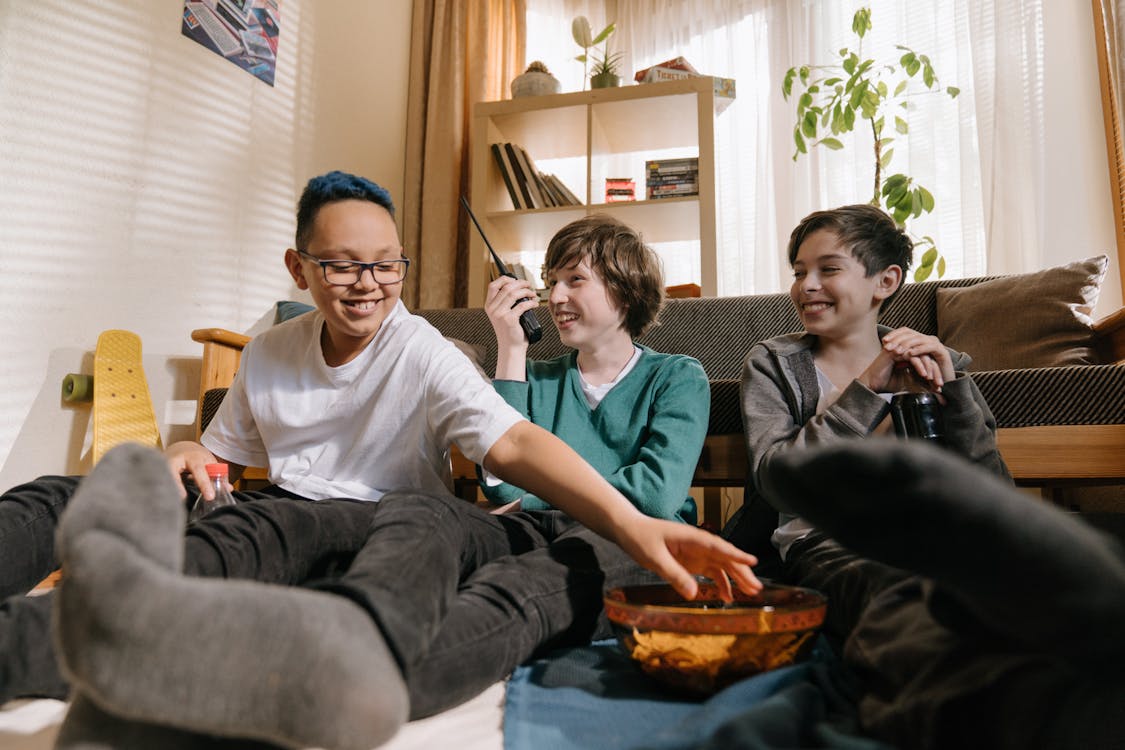 1. Reliability and Connectivity
Despite the popularity of mobile phones, many people still choose to use two-way radio devices as they are more reliable. Individuals and organizations that need additional coverage signal strength simply add repeaters or a larger antenna making your machine more powerful. Using mobile devices in workplaces has many negatives.
Outside of the fact that they can become compromised due to their reliance on base stations which are limited to the number of connections that they can support.
2. Easy to Use
If you want you, employees, to remain focused on their job providing them with 2-way radios that are specifically designed just for communication and do not have any functions or features that could prove to be distractions make them incredibly attractive. All users have to do is keep their device charged, set on the right frequency, and push the PTT button to be able to communicate.
Mobile phones are becoming more simplex, are still much more challenging to use than that. Add into the equation that you have Windows, IOS, and Android operating systems that aren't always cross-compatible
3. More Reliable
These types of devices have been tested in most hazardous and harsh conditions and are built to last. Depending on the circumstances these can even survive explosive environments, submersion in water, and exposure to fine particles, the batteries are rechargeable and incredibly long-lasting.
While mobile phones are becoming more reliable and resilient due the introduction of gorilla glass they can easily be damaged. Simple by dropping one either on a hard surface or into the water can immediately make them unusable.
4. Trackable and Visible
Two-way radio systems can now enable trackability invisibility by using GPS tracking that can be integrated with your computer systems to have a total disability. Let's take, for example, the role of security staff and teaching staff in the school. If the owner is outfitted with one of these devices, their location can easily be tracked from a single console.
My GPS tracking is available on mobile phones, finding a system that is cross-platform compatible can prove quite expensive
In Conclusion
As you see it, there are a variety of reasons that people and organizations are turning to Hunter devices like the T605 and the T600 from Motorola. When you take a closer look at both of them, it really is like comparing two different colored apples. It's up to you to decide whether the car charger and carrying case are worth the upgrade cost.
To be honest, I like the car charger. The carrying case will undoubtedly make the devices more durable. I think for the extra $20, you're certainly getting value for money.
Related Posts: