The M1A is a fantastic rifle (despite it's higher price tag). It's very fast for a semi-auto, has a very effective flash suppressor and the grips feel great.
For medium-to-long distance shots (more than 200 yards) you'll want to equip this rifle with a scope to really maximize your distance. Alot of people get excited about the .308 caliber and think they'll be dunking targets at 300 yards out of the box but any experienced hunter will tell you it takes (i) practice and (ii) a good scope.
What are some things to be mindful of as you choose the best scope for your M1A?
Range. If you're only going to be shooting at 0-to-200 yards, then a 1-5x magnification is fine….especially for hunting. If you're trying to stack up bullseyes on the range at that distance then maybe invest in a slightly higher magnification.
If you'll be shooting at 200-to-350 yards, then you'll want a 5-9x power on your scope. This range seems to be the sweet spot for most hunters. Far enough away to make tracking the game easier but not too far that you have to worry too much about things like Bullet Drop Compensation ("BDC").
Beyond 350 yards, BDC can easily be 6-8 inches. You'll need a 10x power or higher on your scope to be effective at this range and even then it'll take practice and some more effort to zero it in.
Below are the Best Scopes for M1A
Image
Title
Price
Prime
Buy
Leupold VX-Freedom 3-9x40mm Riflescope, Sabot Ballistics Reticle (174184)

Prime

Eligible

Buy Now
Vortex Optics Crossfire II 2-7×32 Scout, Second Focal Plane, 1-inch Tube Riflescope – V-Plex Reticle

Prime

Eligible

Buy Now
Nikon P-Tactical .223 3-9×40 Matte BDC600

Prime

Eligible

Buy Now
AIM Sports 2-7X42 30mm Scout Scope/Rangefinder

Prime

Eligible

Buy Now
Burris FullField II 200193 Rifle Scope 6.5-20X50 Ballistic Mil-Dot 1 Inch Tube Matte Black BU200193

Prime

Buy Now
UTG 2-7X32 1″ Handgun Scope, Long Eye Relief, PDC Reticle

Prime

Eligible

Buy Now
Bushnell Trophy Rifle Scope with Multi-X Reticle

Prime

Eligible

Buy Now
Sig Sauer SOR52001 Romeo5 1x20mm Compact 2 Moa Red Dot Sight, Black

Prime

Buy Now
Product prices and availability are accurate as of the date/time indicated and are subject to change. Any price and availability information displayed on [relevant Amazon Site(s), as applicable] at the time of purchase will apply to the purchase of this product.
Prices pulled from the Amazon Product Advertising API on:
What Makes a Scout Rifle Different?
In Colonel Jeff Cooper's words, a scoped rifle he's a critical weapon. Effectively it is a rifle that is manufactured to meet the specifications listed above. It has been explicitly designed to do this. This acts as an all-purpose rifle, suitable for prepping survival, combat, hunting, even target shooting.
Even though these rifles are well-designed, the addition of an optic certainly boosts performance. But to be considered a scout rifle, the optic has to be forward-mounted, so it can be used by both eyes when shooting. This allows users to have greater situational awareness.
Objects are moved further from your eyes to ensure that the housing does not occupy too much space in the field of view. The idea of this is to that allowed people to remain as aware as possible of their surroundings. This is achieved by using a full-size optic but offering less zoom.
Anyone who has built a scout rifle specifically for self-defense or prepping understands that when you mount your optic further out, you know that was you to easily add weapon-mounted night vision If you plan to buy a night vision module and add it to your riflescope, it's essential to ensure that both the reticle or illumination are compatible.
Why Should I Use a Scout Optic?
Trust me, when I tell you if you intend to build a scout rifle, you will need to purchase a specialist scout optic. The reason for this is the forward mounting, the scope you choose needs to be designed to offer both generous eye box and more extended eye relief. Experienced scout rifle users understand having a closer mounted scope, even an eye box or eyepiece that is precise, make squeezing-off fast rounds nearly impossible.
It's also important to understand that the scout scope has to offer excellent optics; most standard ranges on the market don't meet these criteria. Manufacturers have decided to assemble scopes to match the demand offering specialized features needed in a scout rifle scope optic.
Any scope that has been mounted on a scout rifle will have to be more rugged than one designed for a regular gun. Scout rifles are meant to be hard-working, robust, and portable. If you're going to add a scope to a scout rifle, it has to be capable of taking a lot of abuse. When you add into the equation, it's forward mounting, and this will have to be well built, especially as it's going to be thrown around quite often in the field.
To cope with these issues, it's essential to do your research, look at as many designs as you can. Consider ones that have been carefully taught out by manufacturers. If you do this, you should avoid the most common problems that arise with cheaper scopes. High-end manufacturers also offer repair services and warranties.
Feel and Weight Balance
Before deciding on the scope you will mount on your scout rifle, you should pay close attention to the balance and weight of the mount and the range. The new quick-detach mounts have become standard and are excellent products, especially as you will want to mount your scope keeping it as low profile as possible.
As scout rifles will be carried in a sling for prolonged periods, the balance of the rifle will be nearly as outstanding as the weight. A top-heavy rifle is just going to end up turning and digging into your side while you try to carry it. You might get away using a small objective bell and a lightweight magnification scope that uses a quick detach aluminum mount holding as long as the complete package weighs less than a pound.
Because the scout rifle is meant to have a scope mounted further forward, you don't have to worry about the bolt knob clearing when you're reloading. Scout scopes can be installed as low as you can go on the bore axis.
The 8 Best Scopes Available Today for Scout Rifles
1. The 119675 VX-R Scout from Leupold
Leupold has long been known as one of the top manufacturers of sporting optics in the world. The fact that they are major suppliers for law enforcement and military units speaks for itself. The optics and scopes they make for sportspeople are some of the best money can buy.
This particular scope is one of their premier optics, simple the best you'll find on the market. It's a combination of an extended eye relief scope that still offers moderate magnification. They also added an impressive fire dot reticle. This reticle combines the excellent magnification and easy-to-shoot nature associated with the red dot sights identity equation, the renowned optical quality that Leupold sites are known for.
Manufactured in the US using the best materials, this is shockproof, fog proof, and fully waterproof scope turn offer from 1.5 to 5x magnification. Featuring a turkey millimeter objective bell and trim and slim 1in tube that houses fully multi-coated lenses. The one negative is you have to install batteries to illuminate the reticles fire.. this is a nice bright glowing red. That is visible at the center of the site's crosshairs. This is specifically designed to make accurate snapshots easier well being able to keep both your eyes open.
Leupold VX-R 4-12x40mm Riflescope
Leupold Model #120620 – VX-R 4-12x40mm with Illume. Fire Dot Wind-Plax CDS reticle and Matte finish

100% Waterproof, fog proof, & shockproof

Motion Sensor Technology extends battery life by deactivating illumination after 5 minutes of inactivity

Made with 6061-T6 aircraft quality aluminum and punisher tested to a lifetime of performance even under harshest recoil
2. The Optics Crossfire II 2-7×32 Scout from Vortex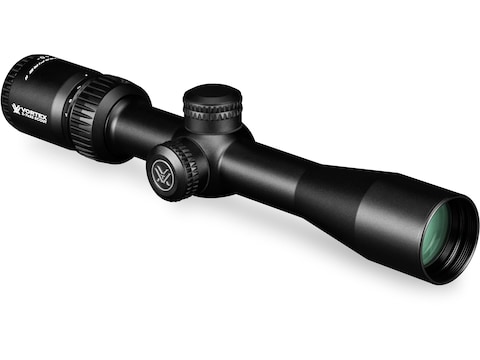 While vortex optics offer various features, they're particularly famous for one thing their scopes are virtually bulletproof. Always keeping themselves at the forefront of innovation and providing exceptional customer service on all their products makes him a leading provider in the optics industry. On top of this, this is one of the most cost-effective scout scopes money can buy
It is manufactured using a single piece of aluminum that is aircraft-grade the use of fully multi-coated optics in all their scopes that have been o ring sealed and urged using dry nitrogen.
All of these design features deliver you a shockproof fog proof and waterproof Eunice. All of these features are very important than scout rifles. This one also includes a fast focusing eyepiece and a full nine and a half inches of eye relief.
These allow you to accurately and swiftly take advantage of the higher-quality magnifications and the excellent optical clarity offered by the scope. The Vedas PDX reticle is one of the more popular hunting reticles on the market. These have been designed to allow shooters to predict their shots within normal hunting ranges accurately.
Vortex Optics Crossfire II 2-7×32 Scout, Second Focal Plane, 1-inch Tube Riflescope – V-Plex Reticle
The 2-7×32 Crossfire II Scout Riflescope is perfect for Use on your Scout rifle, The V-Plex reticle is a popular all-purpose hunting reticle intended for a wide variety of hunting applications

With 9. 45 of eye relief and an ultra-forgiving eye box, youll be able to quickly get a sight picture and acquire your target, The fast focus eyepiece allows quick and easy reticle focusing

Capped reset turrets are finger adjustable with MOA clicks that can be reset to zero after sighting in
3. The Force XR 2.5-8×28 from Nikon
Nikon offers some of the best scout scopes available for the outdoor hunting industry. Featuring many of the capabilities of higher in the optics at much lower prices. Renowned for constructing value-driven high-quality optics, Nikon makes one of the best scout scopes for people who are looking to operate within a specific budget. The range itself has been designed to offer long eye relief want to be mounted on Harvey calling pistols and rifles. Designs to be extremely durable and versatile as well as lightweight.
The primary material used in the construction of this scope is a polymer; this is what keeps the scope both gerbil and lightweight. It also allows it to absorb more severe recoil better than many of its competitors. The scoop also shocks fog and waterproof using a double o-ring seal designed to withstand The recoil from large-bore scout rifles and the Magnum handguns.
It's handguns specific BDC reticle just happens to work well an intermediate cartridge to the point where you can confidently predict shots either a general target shooting or hunting. it's optics also fully multi-coated and mounted inside the scope using additional multiple layers of anti-reflective compounds that have been added to the glass surface to provide up to 95% light transition to the user's eyes
They have also added adjustable turrets then allow you to make 1/2 inch adjustments out up to 100 yards making this easier to confirm and dial in 0.
4. The 8.5-10.5″ Long Eye Relief 30MM SCOUT from Aim Sports
As one of the prime optic producers in the world aims sports, correctly, contracts with individual sportspeople to produce internationally-acclaimed optics. Renowned form the level of quality that they put juice while still keeping within a reasonable budget. This scope sounds for less than $100. You need one of the most impressive on the market, being the only scope featuring a 30-millimeter tube.
With an adjustable 2 – 7x magnification, it is perfect for accurate shooting even three to four hundred yards a standard .308 rifle. With its enormous 42 mm rifle scope, it is more than adequate for capturing in a flight to continue shooting or hunting right on till dusk. Offering plenty of eye relief and adequate magnification for the scope of this price. The addition of a mil-dot reticle makes it one of the best value long-range scout scopes you can find for accurately predicting shots.
If you're prepping me for the survival are the next zombie apocalypse, you should don't look further than this scope for your scout rifle. It comes in a price tag that nearly everyone can work within. It allows plenty of wiggle room for buying ammunition and any other accessories.
5. The Scopes 200269 Scout Riflescope from Burris
Burris is a difficult company to work out. They seem mostly just interested in competing with most other manufacturers, but they do occasionally come out with amazing optics. This fix magazine magnification scope design for your scout rifle is simply the lightest and most compact scope available at the market today.
If your goal is two shoots quickly and have is light he scopes as possible this is the answer you have been looking for. with a tiny 20 mm detective legends two offers a mother's 2.75 X magnification home built around a sturdy 1in tube discount scope can be mounted closer to your rifles bore axis than any other range. Set it 100 yards Parallax. It has a turd adjustment and generous by relief.
Entirely manufactured in the US, this is a compact and simple solution for anyone looking for an optic for their scout rifle. Only two lenses have been multi-coated. Considering its 20 minutes of victim lens is so gather and abundance of light. Obviously, due to its size, there will be some trade-off, so its crosshairs and magnification are more modest than other offerings. It is still an extremely portable solution.
Burris 3-9 x 40mm Fullfield II Ballistic Plex Rifle Scope
Popular and premium traditional hunting riflescope at an affordable price

High-grade optical glass provides excellent brightness and clarity with lasting durability

Quality, precision-ground lenses are larger than those of comparable scopes, for better light collection

Index-matched, Hi-Lume multicoating aids in low-light performance and glare elimination, increasing your success rate

Fullfield II variable power 3x-9x-40mm ballistic plex matte black

Water, fog and shockproof

Forever warranty
6. The 2-7X44 30mm Long Eye Relief Scout Scope from UTG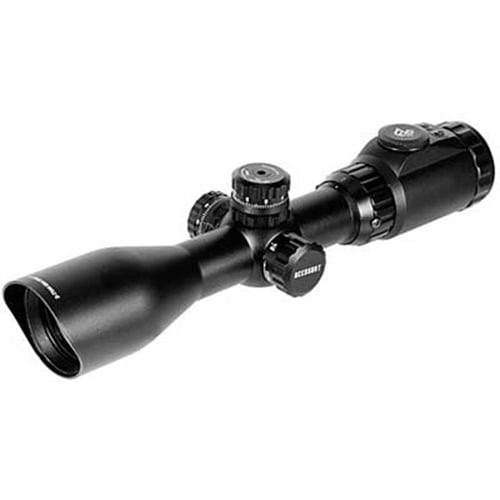 From the smallest to the most featured full scout scope you can buy. The scope from UTG features a 44-millimeter objective lens 30- millimeter tube. It offers to 2-7x magnification is one of the few scout scopes that offer eat target-style tarnish. As usual, an illuminated reticle, especially considering its price point constructed on an 80s platform, this scope is waterproof on proof and shockproof and uses a proprietary emerald coating on its lens.
In fairness, they have managed to pack in as many features as they could on the scope. You have a computer program that operates excursus clutter in new mini two reticles making this one of the larger scout scopes you can buy with some large target turrets. Still, all of this comes at a price.
You shouldn't be put off by the size of the scope it does its performance is exceptional if you're looking for competitive advantage this is the scope to work with.
UTG 2-7X44 11″ – 9.5″ Long Eye Relief 30mm Scout Scope Glass Reticle
Eye Relief: 11 – 9.5

Built on True Strength Platform, Completely Sealed and Nitrogen Filled, Shockproof, Fogproof and Rainproof

Side Wheel Adjustable Turret(SWAT) for Parallax Adjustment from True 10 Yards Up, and Ready to Accept Optional Big Wheel to Achieve Finer Parallax Adjustment
7. The Trophy Scout Rifle Scope with Multi-X Reticle from Bushnell
Bushnell is, by far, one of the largest optics manufacturers in the world. Popular with law enforcement units elite military personnel, you will even find the optics well-stocked on the shelves at Walmart. Did you produce a series of scout rifle scopes, but the one I have chosen is by far the most affordable.
As with any scout scope, there's a specific threshold for performance if the range doesn't meet this then I look dearly to usable. They must be designed in a rugged fashion offer non-critical long eye relief as well as a generous guy box. This particular scope comes from the Bushnell trophy series and meets and exceeds all these requirements.
Featuring a multi X reticle that is one of the top-performing on the market allows for anchorage shop prediction at the very edge of your cartridges ballistic potential. The scope itself is fog proof, shockproof, and waterproof, as well as being multi-coated. These features are standard among most scout scopes on the market. However, Bushnell has even managed to cram some additional features while offering a scope that still occupies a lighter and smaller footprint than many of its competitors.
This smaller scope punches well above its weight. It performs nearly as well as many of the more extensive ranges while staying closer to your rifles born access to love for secure handling. The one slight negative is a 33mm objective lens with some Hunters might consider on the smaller side for a rifle scope.
8. The SOR52001 Romeo5 from Sig Sauer
When it comes to making pistols, Sig Sauer remains one of the premier manufacturers in the globe. They are now branched into creating some of the best magnifying optics on the market producing high-quality, cost-effective electronic solutions. They're already established brands to prompt many loyal customers to start using this new technology, such as there small red dot scope.
This miniature red. Has a 2 Moa. What is fully adjustable 210 completely separate legislation settings is also ultimately manufacturers in the United States. It was coming with a built-in sensor that is designed only to operate when the unit is put in motion. Anytime you move the rifle that the optic has been mounted on this scope automatically turns on. Suppose the sensor doesn't detect new movement, after a time it will automatically switch off, so you don't have to worry about draining its already impressive battery life. It is ipx7 water fog and shockproof and comes with an integrated Picatinny rail.
Many users looking for a magnified optic to increase the reliability of respite my phone have started to use this product, but even if you have a Mosin Nagant are marlin 336 and even an AK-47, you can attach the scope for just for fun or for some plinking. bus because it's magnified optic it is slightly more sensitive so you might want to be more careful with the recoiled
If you're looking for a highly effective low-cost optic that offers red dot features Ennis coating sculpt, this particular Eunice from Sig Sauer is undoubtedly worth your consideration.
Sig Sauer SOR52001 Romeo5 1x20mm Compact 2 Moa Red Dot Sight, Black
MOTAC (Motion Activated Illumination) powers up when it senses motion and powers down when it does not. Provides for optimum operational safety and enhanced 40,000+ hour battery life

Integrated M1913 Picatinny interface provides industry-standard mounting options for a wide range of applications

Includes a M1913 Picatinny low mount riser and a co-witness 1.41in riser mount
Scout Scope Pricing
Scout scopes offered a perfect solution for SHTF is bug-out situations. Suppose you are not accustomed to shooting full-sized centerfire cartridges and looking for a solution to reduce your costs while still assembling a capable scout rifle. Picking one of the options listed above most certainly offers you some money saving options and free up with the cash to buy extra ammunition.
With this in mind, I have outlined in the general list of price ranges you can expect when looking to purchase a scout scope I've also told him some tricks and tips that might help you save more money.
$100 or Under
When you're operating in this price range, you're looking for a scope that offers a package of different features. Finding one that has rings and rails will save you some money. the vast majority of ranges in this classification usually offer higher magnification and objective bills to make them for their inferior optical quality
It is necessarily a big problem, especially if you're going to use your weapon primarily is only getting light usage. Any initial scope will probably work out on your scout rifle, especially if you intend to use it in SHTF situations.
If you're looking to spend under $100 near going to have to compromise, the first thing is that you're unlikely to get any extended warranties horoscope that has been manufactured in America. Having said that this is still a buyer's market and there are plenty of options that will perform perfectly well I don't do three hundred yards offering excellent build quality at reasonable prices
I would recommend the 2-7×42 8.5-10.5″ Long Eye Relief 30MM SCOUT from Aim Sports.
From $100 to $200
If you can stretch your budget closer to $200, it opens up your videos of choice extensively, offering you some excellent optics. Many of you may be considering purchasing a handgun scope at this budget, even working with a factory-built scout setup as opposed to having to assemblage yourself.
With an operating budget of $200, you can undoubtedly pick a high-quality scope from one of the major manufacturers, including vortex Bushnell AR Leupold. you can expect to get much of the functionality of their more expensive units, but you might have to compromise on some refinement
Try out the Optics Crossfire II 2-7×32 Scout from Vortex.
$200 to $300
If you can work with a higher budget of $300, this gives you access to nearly every primary scout scope on the market you can choose to Eunice that can be professionally installed using a detachable rail and mount.
A word of advice, even with a budget of $300, you might want to focus on purchasing an accident scope and wait to have a custom mounted later. Put some manufacturers, especially Ruger, to include high-quality rings in their rifles package. this will allow you to save a little bit of money on setting up your specialized scope
My pick in this price range is the 200269 Scout Riflescope. From Burris Scopes
Other Accessories You Will Also Need
When you are looking to assemble a scout rifle, and you want to make your iPhone as user-friendly as possible, there are a series of accessories that you should consider. A scope will be necessary what other accessories were surfing make using your scout rifle effectively far less of a chore.
In many cases, you probably won't realize what accessories you need until they start shooting, so it's important always to leave a little bit of wiggle room in your budget; otherwise, it could prove to be a steep learning curve before you accurately set up your Star Trek.
A Quality Mount
Purchasing a high-quality mount is vitally essential to operate a knee scope successfully. Isabel let you attached virtually any school you want to reduce recoil and help. Prevent your range from losing zero. I didn't eat a quick detach mount. It's advisable for sale rifles.
even though it may be tempting to use a mountain similar to those on AK-47 or AR-15 rounds you want something with a little bit more precision a lot of you to take advantage of the increase
Rail
After you purchase a scope and a mount, you'll need to look into b buying the appropriate rail. Rifles like 1894 on the Martin 336 I particularly easy to add fish with the correct amount and rail combination. Sometimes you will need to get you a real professionally fitted I need should factor the cost of this modification in a tiny budget.
Primarily if you're operating with a Ruger mini-14 proprietor email as these are very popular is advisable to order one by the head of time.
A Good Iron Sight as Back-up
Inject Cooper's original scout rifle design, and it came with a backup iron sight. This is an excellent idea, especially if you're using your rifle primarily for self-defense. Unfortunately, unless your gun comes with a factory fit iron sight, I didn't want laser can be expensive. If you purchase a Ruger, Marlin, Savage, Armory, Springfield or Steyr rifle iron sights are included eyes normal
Sling
Every good scout rifle is going to need a sling the type that you purchase will largely depend on the environment you're going to be working in. You may choose to opt for the simple three-position letter sling the original scout rifle was intended to use are you might go for one of the more modern styles single point 2-point slings.
Even though you can soak purchase a 3-point sling, these are come to be a thing of the past technology has moved on. One of the more popular options under Marcus is these bungee-style single-point sling use designed to stay out of your way when you're shooting books to absorb any shock if you need to fire a rifle quickly.
Cheek Pad
Whether you choose to install a cheek pad will depend on the type of mounting you're going to use for your scout scope. Remember, I didn't cheat pied is going to raise your stocks to comb as this would be necessary to create a good cheek weld.
There are by a wide variety of cheek pads available on the market some of the best are made from Sorbothane materials they virtually rock the entire buttstock in an absorbent material to prevent vibration or recoil.
A Recoil Absorbent But Pad
Many shooters were first introduced to firearms through either semi-automatic pistols AR AK-47 or AR-15 do we get cartridge rifles I may not be very familiar with shooting .308 guns.
The first time they feel this recoil me, the shock, so I didn't say, but I designed to absorb some recoil is probably a good idea. Oppositely, you might have a particular resource shoulder for a few days after you open up your first ammunition magazine.
My Final Verdict
However, choosing to assemble your scope iPhone will be down to your shooting style, and personal preference what setting it up correctly from the start will help your cause. What you might consider a minute alteration can result in significant differences when choosing to shoot your rifle.
As with any purchase, it's vital to consider some additional expenses when shopping for a scope. The quality of the accessories, including the base and mount that you use, will significantly impact the accuracy of your scout rifle. Shooting is an intensely personal pastime and takes a lot of practice to work out exactly want to help with work for any given shooter.
It should be noted that the long eye relief scopes that I have reviewed in this article won't be everybody's piece of cake, and you might have to shoot off several hundred rounds over the space of a few months to work as precisely what your best setup maybe. One thing I have learned down the years is your scope set up will never be the same from season to season,