Trying to find the highest quality, all-round holographic sight these days is extremely challenging. When you have to consider usefulness, capabilities, cost, and numerous the different brands available. Answering all these questions can prove an infuriating task. Because of this, I've decided to write an article highlighting some of the key differences between different styles of holographic sight and other types of optics.
The purpose of my research was to try and find the 10 best holographic sights, I achieved this by first categorizing them into specific groups. These groups were then used to make the task of finding the best holographic sight for your rifle easier.
Here are what I consider to be the best choices of holographic sights available on the market today:
The Top Four Tactical Options:
The XPS2 Holographic Weapon SightEOTECH
The AMG UH-1 "HUEY" from VORTEX
The 512 Holographic Weapon Sight from EOTECH
The HS510C from HOLOSUN
The Top Three Budget Options:
The SM26005 Ultra Shot M-Spec Reflex SightSightmark
The Defense DDHB Red Dot Reflex Sight from Dagger
The 1X22X33 Red Green Dot Gun Sight Scope Reflex Sight from CVLIFE
The Top Three Pistol Options:
The RMR Type 2 3.25 MOA Adjustable LED Red Dot Sight from Trijicon
The Optics Venom Red Dot Sights from Vortex
The FAST FIRE III from BURRIS
What Exactly is a Holographic Sight?
Before we go any further, it's essential to know what exactly constitutes a holographic sight and how they differ from a standard red dot optics.
Holographic sights were designed to allow shooters to quickly acquire a target and place shots accurately within magnified distances up to 300 yards.
For the majority of shooters, targets that are 300 yards away would be considered a long-range. When a holographic sight is projected onto the field of view using mirrors and lasers, it can present a much clearer and sharper image. This differs in comparison to red dot optics, which use an LED light that reflects via a coated front lens to the shooter's eye.
What Can Holographic Sights Be Used On?
Red dot sight optics and holographic sights are beneficial for use in CQB or close-quarter combat. You can also use a holographic sight for hunting turkey or deer.
Many of the higher-end models on sale today feature shock ratings, which means they are capable of being placed on platforms such as Scar 17s, 300 Blackouts, AK-47s, AR-10s, and AR-15s. Some features options that allow them to be fitted to pistols such as Glocks too, much of this we will discuss later in the article.
Despite what they might see many of the low-cost products on the market they simply do not provide you with a level of consistency and many lack the ability to withstand the recoil from the more massive caliber weapons
What Are The Advantages of Using Holographic Optics?
Most experts agree that the critical difference between a holographic sight and red dot optics is that holographic sights allow shooters to find their reticle foster. Because this the reticle appears projected in front of your optic instead of being reflected onto your eye, this makes focusing on the reticle much easier.
When you're using a red dot optic, some inexperienced shooters struggle to find precisely what they need to focus on, being confused by either of the targets or the dot. Some shooters who has astigmatisms find using holographic sights much easier to use, as no light is being projected on their eye.
The LED light used by red dot optics regularly appears a little fuzzy line, and in other cases, eye issues make them look like Starbursts. This simply doesn't happen holographic sights due to the nature of their design. One advantage that people never consider when it comes to the design of a holographic sight is their ruggedness.
As the sight functions by requiring lasers to be reflected through several mirrors. Manufacturers had to spend a lot of time and effort designing products that had to withstand the shock that comes from a variety of rounds being fired while still providing an accurate optic.
When you take into account that many of these holographic sights are being designed to withstand military-style situations and abuse. They have been over-engineered making them perfectly compatible for most standard users. Even if you're unlucky enough to lose or shatter the lens of your holographic sight, it's designed in a fashion that it will continue to work.
This simply isn't the case with any red dot optics as the LED red needs to reflect back to the shooter's eye directly from the front lens. If you are particularly rough on your equipment and think you may be in danger, are you having a history of damaging the front glass of your optics? You should choose a holographic sight ahead of a red dot sight all day long.
Are There Any Disadvantages to Holographic Sights?
Despite all the advances in technology and testing the these sights are put through, there is one potential disadvantage that a holographic sight struggles to overcome it needs a battery. Red dots optics use LED lights which have become increasingly efficient in recent years, even allowing up to 50,000 hours of practical usage.
Unfortunately, holographic sight cannot of compare as it struggles to maintain a battery life of more than a 1000 hours. This is primarily due to the increased load placed on the laser. this problem is only accentuated as people are continually looking for lighter and smaller holographic sights meaning batteries are getting smaller and their capacity is decreasing with them.
Are There Any Other Considerations They Should Take Into Account Before Choosing the Best Sight?
Once you understand the critical differences between red dot optics and holographic sights, this should help you choose the sight that suits you best. Still, there are several other questions you can ask to ensure you select the optic that is suitable for your requirements.
Question number one should be what weapon I am planning to mount the optic on. This is important as the weapon you use is going to place some restrictions on the optics you can purchase. It can also dictate what features you can and can not have. For example, shotguns are known to have much higher recoil energy. You will have to purchase a holographic sight designed to resist this higher shock.
If this really isn't a concern and you're only looking for a reliable optic for your favorite Ruger 10/22 or a different rimfire rifle you might be better inclined just to purchase a smaller or lighter option. The next question you need to ask is what you want to use the holographic sight for.
If you are an avid hunter, you're probably going to be focused on buying an optic renowned for handling high levels of abuse in the field. Even if you're more technically minded, the ruggedness of your optic may also be essential. The objective lens's field of view will probably trump any other features you're interested in. Some people are only worried about finding the perfect optic for home defense, so abuse is not their primary concern.
Is There Anything Else I Should Consider?
You should consider before purchasing any optic if it is just a stepping stone for a further purchase of a better or different type of sight. Let's be honest when it comes to accessories for rifles today many shooters are like kids in sweet shops. The variety of sights available to them means they're not sure what they want from one day to the next.
Now I'm not saying there's anything wrong with this mindset, but it can prove to be a costly hobby if you consistently buy the most expensive products on the market. It wasn't that long ago that the m68 CCO from Endpoint was far above the best optic on the market. Even though it's still widely used, recent advances in technology mean that better options have left it trailing.
Due to the nature of the market, individuals are always going to jump from one type of optic to another as they seek the correct the option to suit their shooting style. Holographic optics have carved out a little niche within the shooting world as they offer a viable option for many different shooters.
Despite this a product could come out tomorrow, a drastically improves on what a holographic sight can do making them obsolete. The budget is a key concern when you're looking to purchase any optic. How much are you willing to spend? This can always be a tricky question to answer as once you start shopping around, there always appears to be an option that is a little bit better than the one you're interested in, for just a little bit extra cash.
Because of this, it's essential to set a realistic cap on your budget and stick to it. You want to provide you the buyer with as much information as possible. To enable you to make the best decision when purchasing an optic. Let's be clear there's nothing wrong with buying budget optics if you're only going to use them on the weekends for fun.
On the flip side at this optic is going to be part of your everyday life because you work in security; the military or even law enforcement. Especially, If you're given a budget for purchasing your gear, you should always be focused on buying products that are best for you.
If your purpose for buying the optic is for the home defense, What price do you put on your safety? or protecting your family? Weighing all these questions would be essential before deciding on any purchase.
How to Make the Most of Your New Holographic Sight?
When the line between amateur sights and holographic sights game blurred, consumers were offered far more options to choose from. Whenever you are provided with more choices, this will inevitably increase the competition in a market.
This prompts optic companies to become more innovative and forces prices to drop as they try to increase their sales. In the vast majority of cases, this is a win-win situation for buyers, especially when they're only looking for the best quality possible while sticking to a specific budget.
The best way to ensure you have gotten value for money when you purchase any type of sight is to use it. If you are simply buying a sight to gather dust in your closet, This obviously will inevitably end up being a waste of money.
If you have access to a shooting range, you will learn how to zero the optics effectively and make them as easy to use as possible. You can also workout the shock resistance and maximize the sight to give you the best field of view. You can also work out how your reticle handles in various situations. Understanding all of this, or making you a better shooter regardless of how often you intend to use it.
So What Holographic Sights Made Our Top Ten?
This review is designed to make your life as easy as possible. Skip to the budget section, if you want to find the best low price products, or if you are looking for a pistol sight skip to that section. Otherwise, feel free to read on.
The Top Four Tactical Options:
1. The XPS2 Holographic Weapon Sight from EOTECH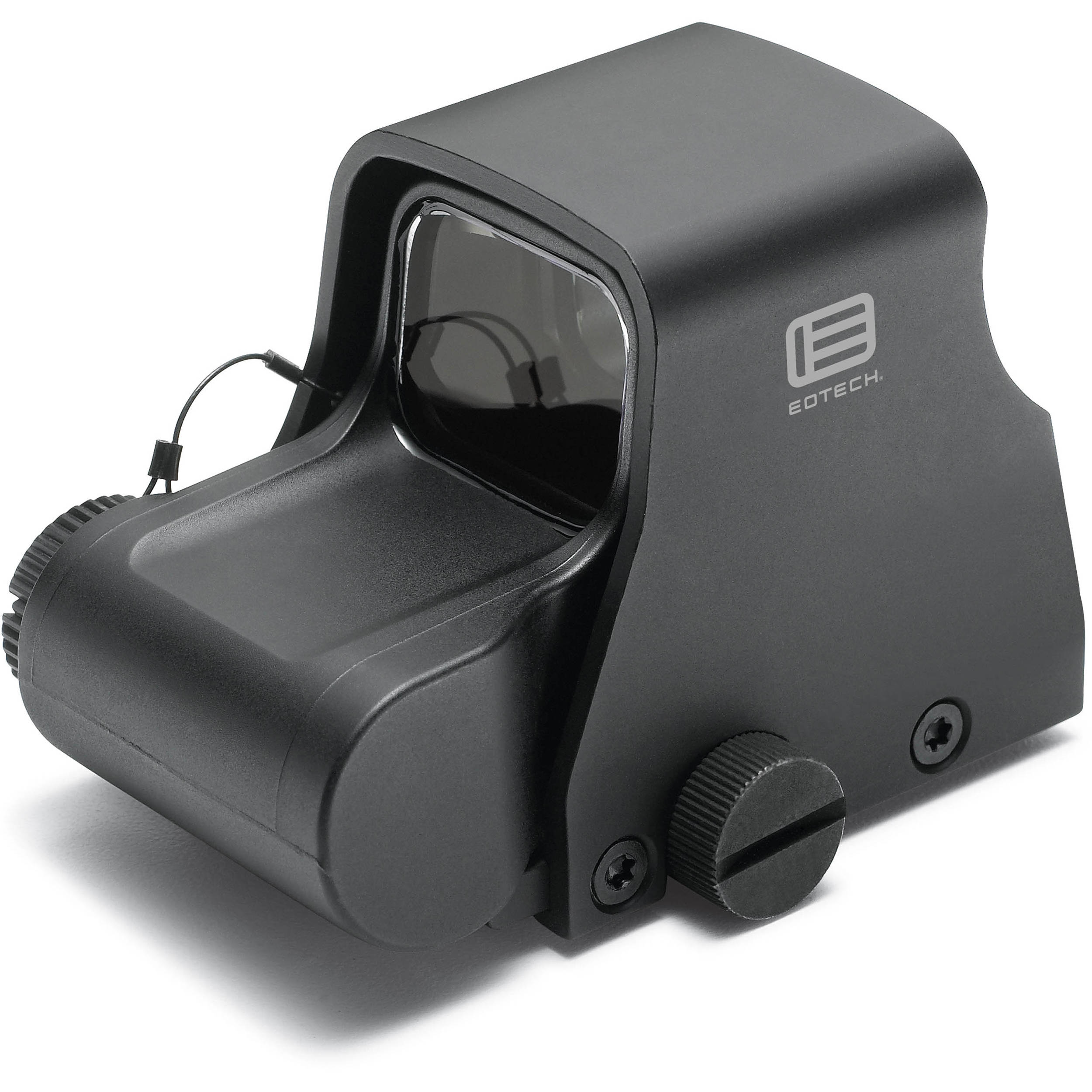 The more brand-conscious shooters among us will be well aware of the fact that the holographic sights from EOTech are highly sought-after.
This is helped by the fact they are pioneers in the holographic sight market and encompass both functionality and rigidity and all their products. The XPS-2 is one of their newer offerings. This is a more streamlined sight designed to minimize the amount of space it takes up on your weapon while still offering all the features available in EOtechs larger products.
EOTech is famous for its signature 1MOA dot reticle. This is mounted in a 68 MOA ring. Many of its competitors have tried to copy this model due to its exceptional ability for fast acquisition of targets while in closer quarters and its ability to combine this with precision shooting over longer distances.
The XPS – 2 is loaded with some of the most cutting-edge and innovative technology available on the market. Featuring over 20 brightness settings with an additional optimum ten settings for night vision All of which can be manually adjusted.
It offers unlimited eye relief and provides shooters with the fastest target acquisition possible. By setting their eye relief at 3 in you will now have a few live views of up to 30 yards.
The one downside of the EOTech holographic sight is its battery life. Still, they have worked hard on incorporating more user control by adding an auto-shutdown feature that is programmable from 4 to 8 hours. They've also added a blink feature to the reticle, which indicates when you need to swap batteries.
EOTECH XPS2 Holographic Weapon Sight
EOTECH XPS2-0 – Holographic Weapon Sight in black with 68MOA ring & 1 MOA dot reticle

Mount – Compatible with both 1 Weaver and MIL-STD 1913 Rails

Adjustable Brightness – The XPS2 has 20 brightness settings for use in any lighting scenario

Compact Design – Leaves more rail space for rear iron sights or magnifier

EOTECH HWS Prestige Warranty – Comes with 10 year limited warranty
2. The AMG UH-1 "HUEY" from Vortex
The introduction of this optic to the market certainly caused a stir. As the company's popularity continues to grow, it has been matched with an increased demand from the customers to produce more innovative sights.
The UH-1 was created as a direct response to their customer's requests, but it also was designed to push the envelope of technology in holographic sights. Its reticle has pushed the boundaries of EOtechs 68 MOA ring to an even higher level. They achieved this by incorporating an aiming point that is offset, allowing the sight to operate in much closer quarters.
The AMG UH-1 also has several other features that make is competitive with EOTech XPS – 2. Outside of the most notable feature, it has a quick-release mount that has been integrated. They've also introduced a more efficient power system that allows the sight to work for extended periods and extended battery life. They've also included a micro USB port orchard allow is a quick recharging
This is also an extremely durable sight. That's is even on par with some of the most expensive models on the market. The sight also offers 1/2 MOA adjustments, which makes zeroing the sight much more comfortable over a variety of distances.
3. The 512 Holographic Weapon Sight from EOTECH
The EOTech 512 has been at the forefront of the holographic sight market for over ten years. This battle-tested sight continually improves year on year to ensure it remains a premier offering. The optics are ruggedly constructed, designed to be capable of withstanding even some of the military's most robust weapon systems.
The commonality of their battery system allows you to use two AA batteries, making the sight slightly more versatile than some of its competitors. On the negative side, the only reason this isn't my #1 choice is that it's larger than some of its other competitors, by comparison, the XPS -2 has all the same features but with a much smaller footprint
EOTech premium sight has the quality and function of the XPS-2 sharing the same brightness settings, the field of view, optical surfaces, and auto-shutdown features. it stands out from the XPS – 2 as its cost it is roughly $120 cheaper.
EOTECH 512 Holographic Sight
EOTECH 512.A65 – Holographic Sight in Black with 68 MOA ring & 1 MOA dot reticle

Mount – Compatible with both 1 Weaver and MIL-STD 1913 Rails

Adjustable Brightness – The 512 has 20 brightness settings for use in any lighting scenario

Water Resistant – The 512 is water resistant to 10 feet (3m)

EOTECH HWS Prestige Warranty – Comes with 10 year limited warranty
4. The HS510C from HOLOSUN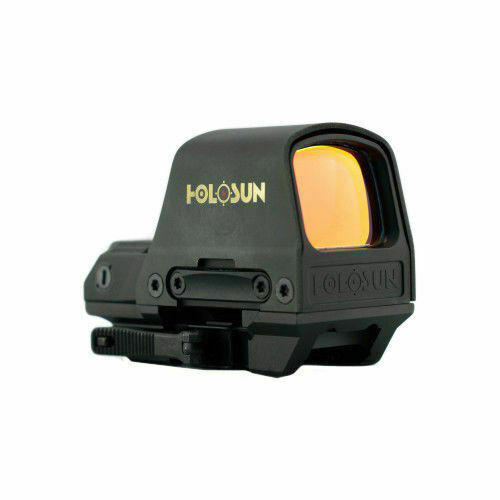 While this cannot technically be called a holographic sight, It does capitalize on holographic sight designs and operates as an open sight and provides an inexpensive and durable alternative to the more expensive sights provided by EOTech and Vortex.
The primary purpose of this optic is to provide an eye reflex sight that has some of the features found in the more expensive options and keeping it at a far more affordable price tag.
Part of the appeal of the HS501C is that it is $175 cheaper than the XPS-2 from EOTech. Using a standardized red dot optics function and combining this with the ruggedness of a holographic sight. This provides a shooter is with a rectangle that is easy to acquire but with a lighter and slider optic than most of its competitors.
Shooters are drawn to this sight because of the extended battery life that offers and has a run time of up to 50,000 hours, this when coupled with a reticle comparable to EOTech's sight. This offering from Holosun is a serious competitor on the market. The one negative I could find with the optic is that it has a limited amount of daylight brightness settings and only has 2-night vision settings.
This still allows it to complete the opera from many other sights in this price bracket while the optic has fewer daylight brightness settings, it does offer 2-night vision compatible environments that outperform other sights in this price range.
The Top Three Budget Options:
5. The SM26005 Ultra Shot M-Spec Reflex Sight from Sightmark
Designed similarly to the HHS 501c, this reflex device from Sightmark is created in the fashion of a holographic sight. Still, it uses an open optic that does allow it to provide standard holographic options but in a budget sight.
Part of the appeal of this company is its ability to provide acceptable optics. at inexpensive price tags. This is mainly due to their minimalistic design approaches. They drastically reduced the number of brightness settings, which increases the battery life and added additional features to make this a quantity optic.
Having said all that, it does offer shooters six brightness settings It also has a reticle based on the 65 MOA ring that allows you to aim quickly. That is precise up to 100 yards. It also has a decent battery life considering its cost. You can roughly get 1,000 hours when using the auto shut-off function. One of the strange tasks of the sight is that it is submersible in up to 40 feet of water.
Sightmark Ultra Shot M-Spec, Dark Earth
Low power consumption & up to 1, 000 hour Battery life

Adjustable quick-detach Weaver mount

Rugged cast-magnesium alloy housing with protective shield

IP68 waterproof-submersible to 40ft

Advanced, scratchproof, optical system with parallax correction
6. The Defense DDHB Red Dot Reflex Sight from Dagger
Dagger defense is one of the newcomers to the market, but they certainly hit the ground running when they provided one of the best red dot reflex sights available.
The DDHB is similar in design to other higher priced products on the list It also uses and opens optic which uses the strong points of holographic sights and combines them with standard red dot technology.
Users like the sight because it's straightforward to zero and has a built-in set screw which allows you to lock the zero. You can also choose four different reticle setting to suit your personality
There's no denying that the DDHB lacks some of its competitors' features, but at its $50 price tag who is complaining. It makes an excellent entry-level optic. it may not be viable to take on missions in Afghanistan, you can indeed use it for some friendly competition on the range.
7. The 1X22X33 Red Green Dot Gun Sight Scope Reflex Sight from CVLIFE
And just under $25, this is the lowest priced optic to make our list, while it's not going to win any awards. It does provide you with a very functional optic and is perfect for new or younger shooters.
Learning to shoot with an iron sight can be difficult for younger or fresher shooters. You can use this red dot gun sight to boost their confidence and help them develop correct shooting techniques.
The simplex design still offers users a vast field of view, making it comfortable for any new shooter to use. The sight is also will assembled utilizing an aluminum alloy to make me a light yet sturdy unit. You can comfortably make any windage or elevation adjustment using the Allen wrench that has been included.
CVLIFE 1X22X33 Red Green Dot Gun Sight Riflescope Reflex Sight for 20mm Rail
Screen Size: 22mmx33mm;Weight: 130g; Length: 82mm

Reflex Sight Reticle Type: Circle Dot, Cross, 10 MOA & 3 MOA(Red and green illuminated)

4 reticle patterns offer unlimited eye-relief and corrected parallax

Allen Wrench included helps you adjust elevation and windage easily.

Made of high grade Aluminum Alloy, the dot sight is durable and Light weight.
The Top Three Pistol Options:
8. The RMR Type 2 3.25 MOA Adjustable LED Red Dot Sight from Trijicon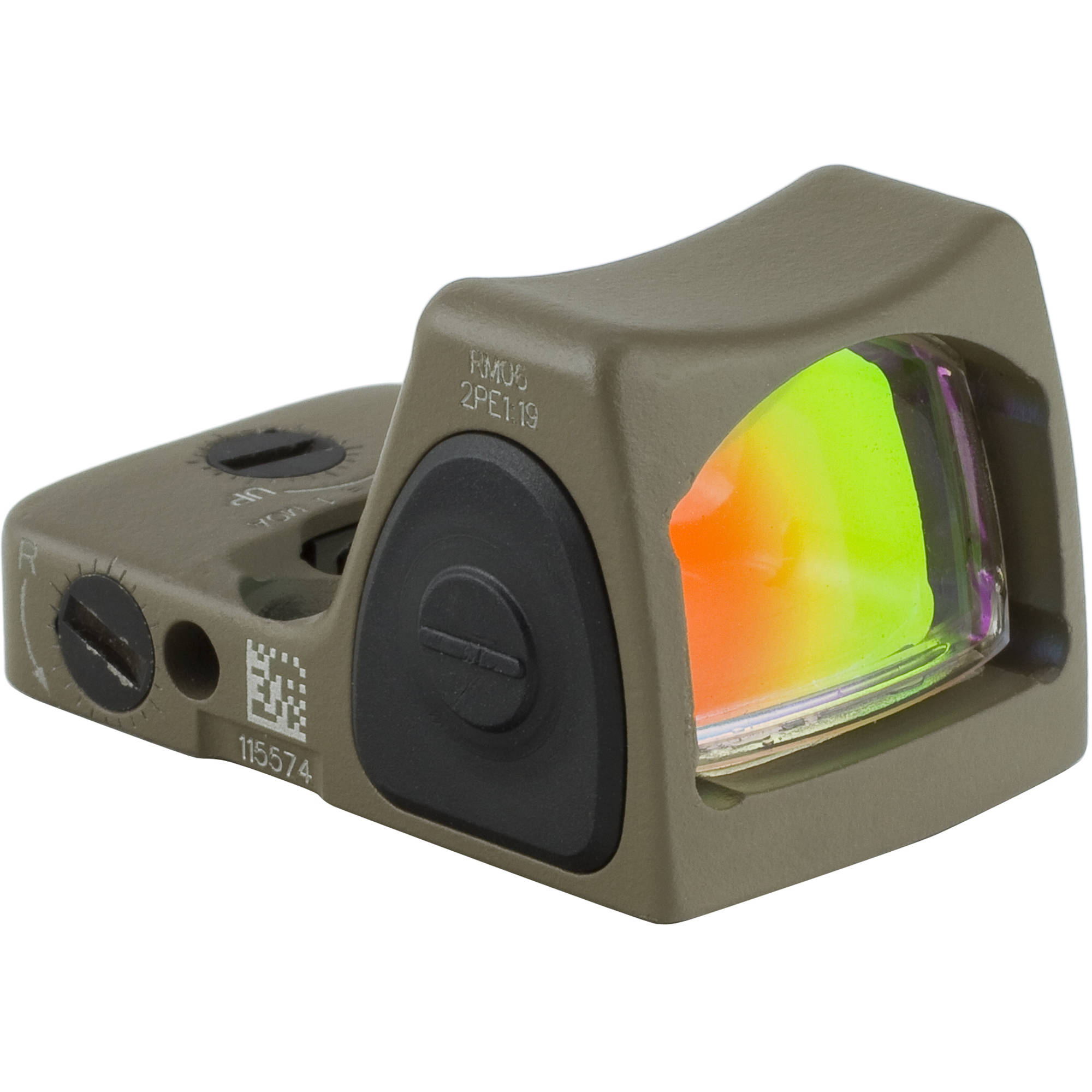 This pistol sight from Trijicon is the absolute pinnacle I'm smarter optics. even though it is technically not a holographic optic it does have any pull on holographic sight designs to allow it to provide high-speed target acquisition a rugged design on a right field of view.
The RMR owes much of its popularity. Jesus ain't that it can be used as a primary sight on pistols as well as rifles. Its quick target acquisition feature, along with its lightweight design, makes it an exceptionally versatile optic an applicable to a variety of different weapons.
You can also choose from a couple of red. Sizes, however, at 3.25 the Moa. It seems to be at its optimal capacity. Mounting options are also plenty of old, which is just a sign of the art of Mars's popularity in the market. One possible negative is that you would have to remove the sight from its base to charge its battery. But the fact that it comes with a four-year life as standard means this isn't a huge negative. This is a beautifully compact design at just over 2 inches long and weighing over 1 oz.
Trijicon RM06-C-700672 RMR Type 2 Adjustable LED Sight, 3.25 MOA Red Dot Reticle, Black
3.25 MOA ADJUSTABLE LED RMR: Features an automatic brightness mode and easy push buttons for eight adjustable brightness settings including 2 nv and 1 Super bright

DEPENDABLE ELECTRONIC DESIGN: Ruggedized Battery contacts and electronics ensure performance and survivability in harsh environments

Battery automatically adjusts aiming dot to ambient lighting conditions after 16.5 hours. Battery life is efficient when used at 21 degree celsius at setting 4 of 8. Bullet drop compensator not present
9. The Optics Venom Red Dot Sights from Vortex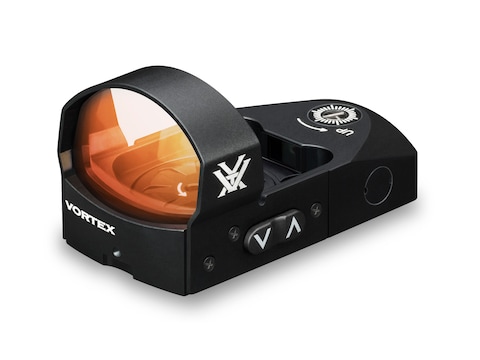 Taking excused from Trijicon Zara more, this venom sight from vortex is a less expensive but highly competitive optic. Anyone looking for a Microsoft account should check out the venom as it is similar in weight size and design to the armoire. It has an additional two brightness settings on the smaller reticle. you can also rely on a secure top-load battery system makes which means changing a battery is much more straightforward than on the RMR.
While this sight is slightly longer than its competitors, it is lighter. It also has signed mounted controls that make adjustments easy and quick.
You can also turn the recorded brightness off, which makes keeping the battery alive. Adjusting for elevation and windage is also straightforward, just using a small screwdriver. You also have a papaya tree low rail mount that comes with the optic shipped directly from their factory.
10. The Fast Fire III from BURRIS
Last but certainly not least comes the fast fire 3 from Burris. Don't be fooled by its cheaper price tag and some of the additional pictures that you will lose.
This is an excellent micro-hybrid sight being only slightly more substantial than the are more and venom. It is about the same size. Despite It being primarily meant to be a pistol sight, but it can also be mounted on shotguns and rifles.
The smaller price tag and versatility make it a worthwhile investment. You get a battery life of up to five years if you utilize the auto shut off assistant, and it has excellent target acquisition and a strong field of view.
The bonus of being able to access the battery from the top of the sight puts it on par with the venom fro, Vortex. Even though the CR1632 is not as well known as to CR2032, you can so find it in most home improvement and even grocery stores around the US.
On the negative side, it only features three brightness settings. The brightness sensor they added is to ensure the reticle is matched wherever possible to the current environment.
Burris 300236 Fastfire III with Picatinny Mount 8 MOA Sight (Black)
PINPOINT ACCURACY – The Fast Fire III puts an unmistakable red dot at the point of impact within your field of view, giving you an immediate advantage in speed and accuracy.

VERSATILITY DEFINED – Rely on the automatic brightness sensor to adjust to match the environmental conditions or choose one of the three manual brightness settings.

RED DOT SIGHT – The 8 MOA dot is ideal for short range shooters and fast acquisition.
My Final Thoughts
You've probably worked out at this stage, recognizing the nuances between the variety of holographic sights available is essential for determining which optic is going to be right for you.
You should carefully skim through every question before making any decision. Work out whether you want a hybrid sight or a full holographic sight or even a red dot sight before you begin, This will allow you to narrow the field of your search.
As with any new sight you purchase, the best way to ensure that it pays dividends is to use it. The sooner you schedule some back-to-back range visits the better. As you become more accustomed to your new technology, the better your shooting will become. The best advice I can give you is to do your research to ensure you end up with a product that will stand the test of time as holographic technology is changing every day.